5 Best DeFi Coins to Invest in 2021
There has been a lot of buzz about this term DeFi recently.
So what exactly is DeFi?
Does it yield interest on idle crypto assets?
Is it secure?
What impact it has on the destiny of financial services?
Are these questions on your mind? If so, then you're on the right forum to learn every little detail about the DeFi coin and how useful it is for you.
What is Decentralized Finance or DeFi?
Think of a world where financial services are not controlled by any centralized entity. Financial transactions do not require intermediaries like banks or a financial institution and everything is decentralized. You can access financial services from any part of the world with just a few clicks without the need for any intermediary. This is what DeFi is intended to do for you.
Decentralized Finance is a financial service with no governing authority or in charge. Just like Bitcoin is a form of decentralized currency, there can be other decentralized financial services too, These services are called DeFi.
How does it work?
Using decentralized money, like some cryptocurrency DeFi can be programmed for automated activities such as exchanges, lending services, insurance companies, and other organizations having no central authority.
What is required to build a DeFi?
Decentralized infrastructure for programming and running decentralized services. Ethereum, a DIY platform for decentralized programs(D-apps) does this job. Through the use of Ethereum, Smart contracts can be written which can manage any financial service in a decentralized manner.
Why should you invest in DeFi coins?
The answer to this question lies in the promising results that DeFi currency is showing in the market. 2.5% of the total supply of Ethereum currently being in circulation is already locked up in DeFi.
Earning rewards through yield farming is a hot topic nowadays and attracting more investors for better returns on their investment. You can find our detailed article to understand what exactly is Yield Farming and how it is different than crypto staking and crypto mining.
Best DeFi Coins: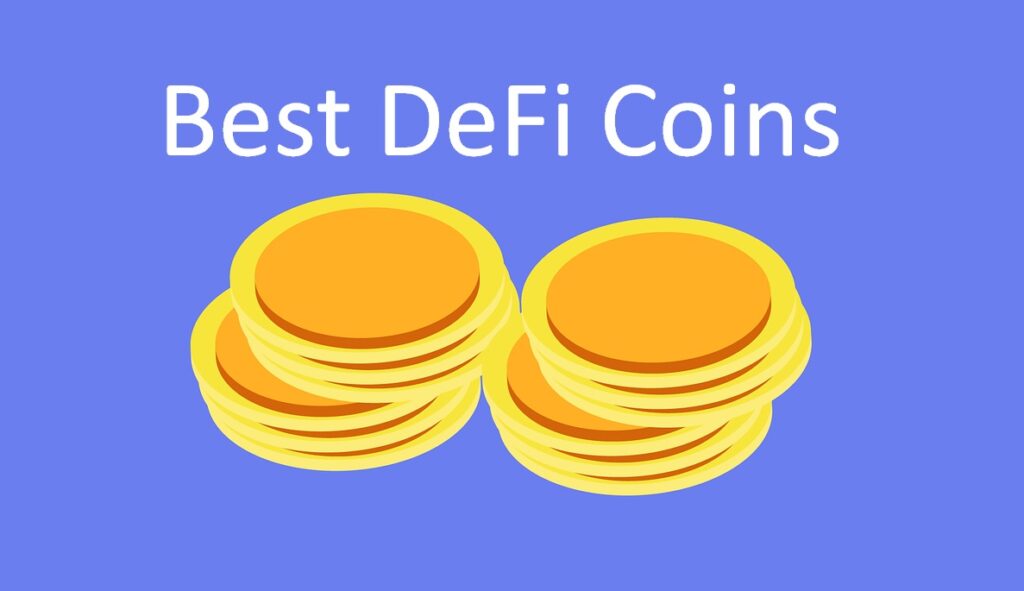 So here we are listing the 5 best DeFi coins that can be a very profitable option for you to invest in 2021. These coins are listed on multiple markets so you can always buy them from Binance Exchange.
Yearn.Finance(YFI): What if I tell you there is a token that is worth more than the bitcoin? the token is just 4 months old and has already gained popularity more than most of the crypto coins. In early 2020, the author of the yearn protocol Andre Cronje, while solving his overhead of choosing between the lending protocols every day, automated this whole process to choose the most optimal strategy for his stable coin.  The most important thing about YFI is the Yearn protocol. This protocol, in essence, is a yield optimizer that focuses on maximizing DeFi capabilities by automatically switching between different lending protocols. It does so by creating a pool for each stable coin. By depositing a stable coin to a pool, the user receives their Y tokens that are the yield-bearing equivalence of the coin that was deposited.
Chainlink(LINK): The highest-performing crypto asset in the year 2019 due to its 500% return on investment! Yes, you heard it right. It started with the price of 30 cents at the starting of the year 2019, and it was no time when it was peaking at over $4 and $14 at the time of writing this article. Chainlink is a decentralized oracle network in crypto and oracle is a data feed that connects blockchains to off-blockchain data. A decentralized oracle solution can do tasks such as retrieving whether data to help calculate insurance premiums and many such useful pieces of information.
Aave(AAVE): Aave is a Protocol that is open source and non-custodial. It allows the creation of a liquidity market. This protocol facilitates the users to earn interest on deposits and borrow assets using variable interest rates.
Compound(COMP): Founded by an economist, Robert Leschner, Compound is a Decentralized Finance protocol or DeFi protocol. This project is built on Ethereum and users can borrow crypto from this company by putting up collateral above the threshold defined by the project. Users can also lend their own money to other people for interest. Like most decentralized finance protocols, the compound is a system of openly accessible smart contracts. Interest rates are determined by the demand for that particular crypto asset. The major difference that sets apart compound from a bank account is that, in a bank, the depositor deposits the money and the interest-bearing money is locked. Whereas in the compound, the depositor can transfer, trade, and use that deposited money on other applications.
Band protocol(BAND): In simple terms, this protocol connects the real-world data with blockchain. Now, this may seem that the scope of band protocol is limited, but when you look into the things it has to offer, you will understand the depth of its scope. Being able to connect to real-world data sources can maximize what this protocol can do. One of the many useful functionalities that band protocol has to offer is supply-chain tracking. Many such highly efficient systems are possible by the use of band protocol, like gaming, financial services, prediction market, gambling. These tokens are undervalued at present but they will find their way to the top soon, which makes the band protocol the star of the future of crypto protocols!