Upaycard is a free and open – source online platform that delivers high quality payment solutions while compared with the competitive rates of the market. It facilitates the easy transfer of money from one account to the other. It does not take the responsibility for the usage of data charges from the wireless service provider of the user. (Link to Official Page)
The main responsibility of upaycard is to allow withdrawal or deposition of funds and processing of payments. The users can utilize the banking features of Upaycard even through their mobile devices. Such features include:
Alerts through SMS: If an user's account is accessed, he will immediately get an alert regarding the usage via SMS or message.
Balance requests: This feature permits the users to track information about the current balance in their accounts.
Acivity requests through SMS: This feature allows the users to make activity requests by sending SMS.
Security keycode through SMS: This feature provides safety to the users' accounts by sending an SMS verification code, in case of any login performed in their accounts.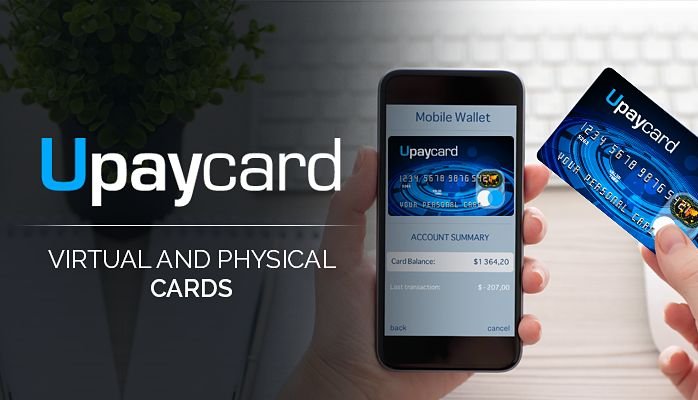 UPayCard and Bitcoin:
UPayCard offers a global payment solution with multiple services and competitive rates. It's e-Wallet has numerous currencies and can be loaded using different ways including Bitcoin, Alipay and WeChatPay. UPayCard e-Wallets offers a full Bitcoin Exchange. Which means customers are able to store, exchange to other currencies and withdraw.
Recommended post: 23 Best Bitcoin Debit Cards 
Unique features of Upaycard:
It is a highly secure payment gateway that is used all around the world.
It holds an online wallet (e – wallet) for the safe storage and access of the users' funds.
It offers global and cost effective payment services in an instantaneous way.
It facilitates the management of funds and offers a wide variety of valuable services to its users.
It imposes only very low transaction charges, thereby helps the users in saving their money.
It avoids fraudulence issues by using several kinds of operational and technical methodologies.
It allows the users to make payments via multiple currency types. This can be achieved with the help of its State – of – the – art payment mechanism.
It holds a strong and professional customer support team, which is available on a 24*7 basis.
It provides a facility of chat support, which is very much useful for the users to solve their queries at an instant manner.
It facilitates the movement of funds into multiple accounts in a simple and effective manner.
It provides online statement for each and every transaction performed on the users' accounts.
Payment Options:
Upaycard accepts payments via the following methods:
Visa
Master card
Maestro
Union Pay
Poli
Fee for fund deposits:
Percentage for union pay transfers: 1.2%
Percentage for Alipay transfers: 1.2%
Percentage for Bitcoin transfers: 1%
Percentage for Wechat transfers: 1.2%
Percentage for master card transfers: 1.2 – 2.9%
Percentage for Visa transfers: 1.2 – 2.9%
Percentage for Bank wire transfers (Deposit): free
Fee for fund withdrawals:
Percentage for Bitcoin withdrawals: 1% while 2% for Express withdrawals
Percentage for Bank wire withdrawals: 10 – 25 US Dollars
Minimum limit for fund withdrawal: 10 Euros
Charges for physical card access and shipping: 9.95 Euros
Charges for the inquiry of ATM balance: 1 Euro
Charges for the withdrawal of ATM funds: 3.5 Euros
Charges for foreign exchanges: 3%
PHYSICAL CARDS
| | | | |
| --- | --- | --- | --- |
| | Buy Physical card | | FREE |
| | Shipping and handling fee | 9.95 | EUR |
| | Purchases | | FREE |
| | ATM Withdrawal | 3.5 | EUR |
| | ATM balance inquiry fee | 1 | EUR |
| | Foreign exchange | 3 | % |
| | Monthly maintenance fee | 2 | EUR |
VIRTUAL CARDS
| | | | |
| --- | --- | --- | --- |
| | Purchase a Virtual card | 5 | EUR |
| | Purchases | | FREE |
| | Foreign exchange | 3 | % |
| | Monthly card maintenance fee | 2 | EUR |
Applications of Upaycard:
Upaycard can be used extensively for the following:
Online purchases
Withdrawal of funds
Transfer or exchange of funds
Hope you enjoyed this article on Upaycard review. Please share your experience and feedback with us in the comment section below.