SecuX Nifty Wallet Review: The World's First NFT Hardware Wallet
Non-Fungible Tokens are getting very popular in the past few years. It is a type of digital art or gaming object, which is not a real-world item but now it is becoming a part of the music and art industry.
Well, NFTs are also taking entry into other industries because of the concepts behind NFTs on the Blockchain. NFTs always have a unique value and they couldn't be replaced by anything else because of their identical value.
Today, people are storing those NFTs in their virtual accounts but what if I tell you to store them in a hardware wallet just as cryptocurrencies?
There is a popular hardware wallet named SecuX, which is a prominent Blockchain security company who has launched its SecuX Nifty NFT Hardware Wallet in April 2022. Let us have an in-depth review of this hardware wallet.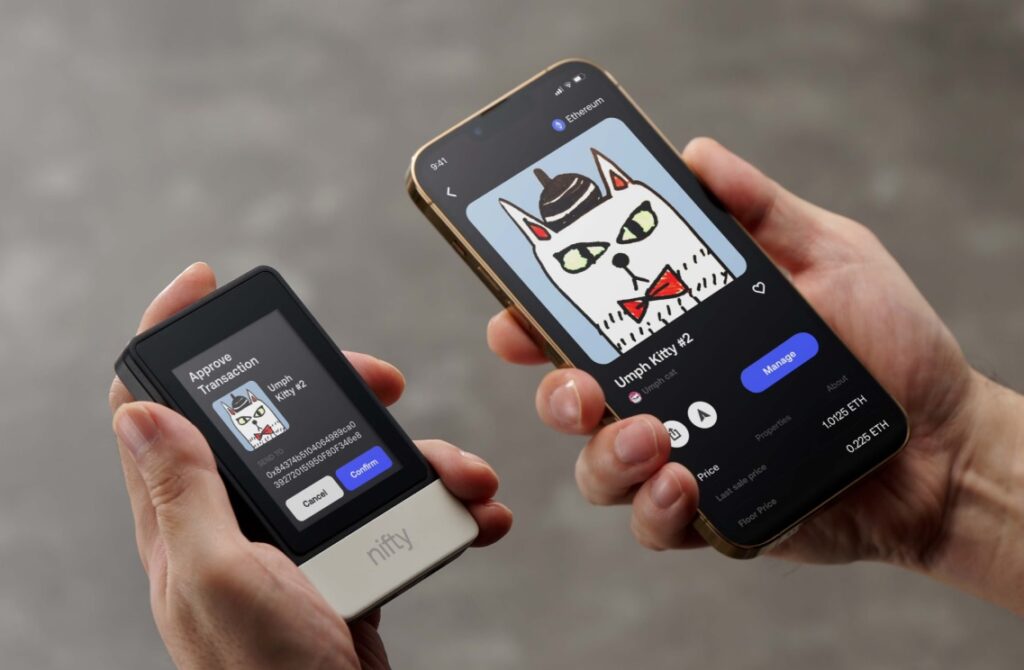 What is SecuX?
SecuX is a popular company that was launched by a group of individuals from different fields such as programming, finance, and Blockchain. The core objective was to provide a secure wallet to store digital assets.
Their first hardware wallet was launched in 2019 and since then, they are offering various wallets. The company provides the best Blockchain services for its customers and SecuX Nifty NFT Hardware Wallet is the latest offering and the first one in the market of NFTs. Let us understand the review of this wallet with its features.
Features of SecuX Nifty NFT Hardware Wallet
Here are some of their main features-
Self Custodial Security with True Ownership
With the continuous rise of crypto scams occurring on the marketplace to deceive users' stored crypto. SecuX decided to launch its highly secured hardware wallet where users can easily store their NFTs. It is a self custodial wallet where you have possession of your digital assets because of having control over private keys. It is a decentralized solution for the peace of people's minds.
Security
This hardware wallet comes with immense security to protect your digital assets. They are embedded with the military-grade Infineon Solid Flash CC EAL5+ Secure Element Chip. This highly secured chip stores private keys, which protects your assets from potential risks and hacking threats. So, if a user has high-value assets or NFTs, they should opt for this hardware wallet without any hassles.
Clear View Signing
SecuX Nifty NFT Hardware Wallet is the world's first wallet in the market that allows users to view and display NFT images, which are truly owned by the private key stored within. So, it is highly facilitative to view the NFT collection and sign with confidence on a 2.8-inch large touch screen for every outgoing transaction.
Dynamic Keyboard Protection
If you are worried that someone has examined the position of your Pin then there is nothing to worry about. This wallet comes with dynamic Keyboard Protection where all the numbers and characters get shuffled simultaneously. So, if intruders know the position of your PIN, it doesn't give them any benefit. This shuffling makes this wallet highly secure.
Multi-Chain Support
When you have a one-stop solution to store NFTs and crypto in the same place, then why opt for others? Yes, this hardware wallet allows users to store NFTs and crypto in the same place. You can track your NFTs on Etherscan and Open sea. Moreover, it also allows you to access Defi apps for buying and trading NFTs right from the wallet. You just need to sync this wallet with different apps to access the marketplace. It currently supports NFTs on Ethereum, Polygon, BNB Chain and Solana.
Innovative Design
SecuX is quite popular because of making some highly innovative design hardware wallets. The SecuX Nifty has been awarded the prestigious European Product Design Award and the Golden Pin Award in product design in 2022. They are not just providing immense security but also taking care of user-friendly features and the appearance of the platform. The device has a 2.8-inch large touchscreen with a weight of fewer than 80 grams. This device can easily come into your palms.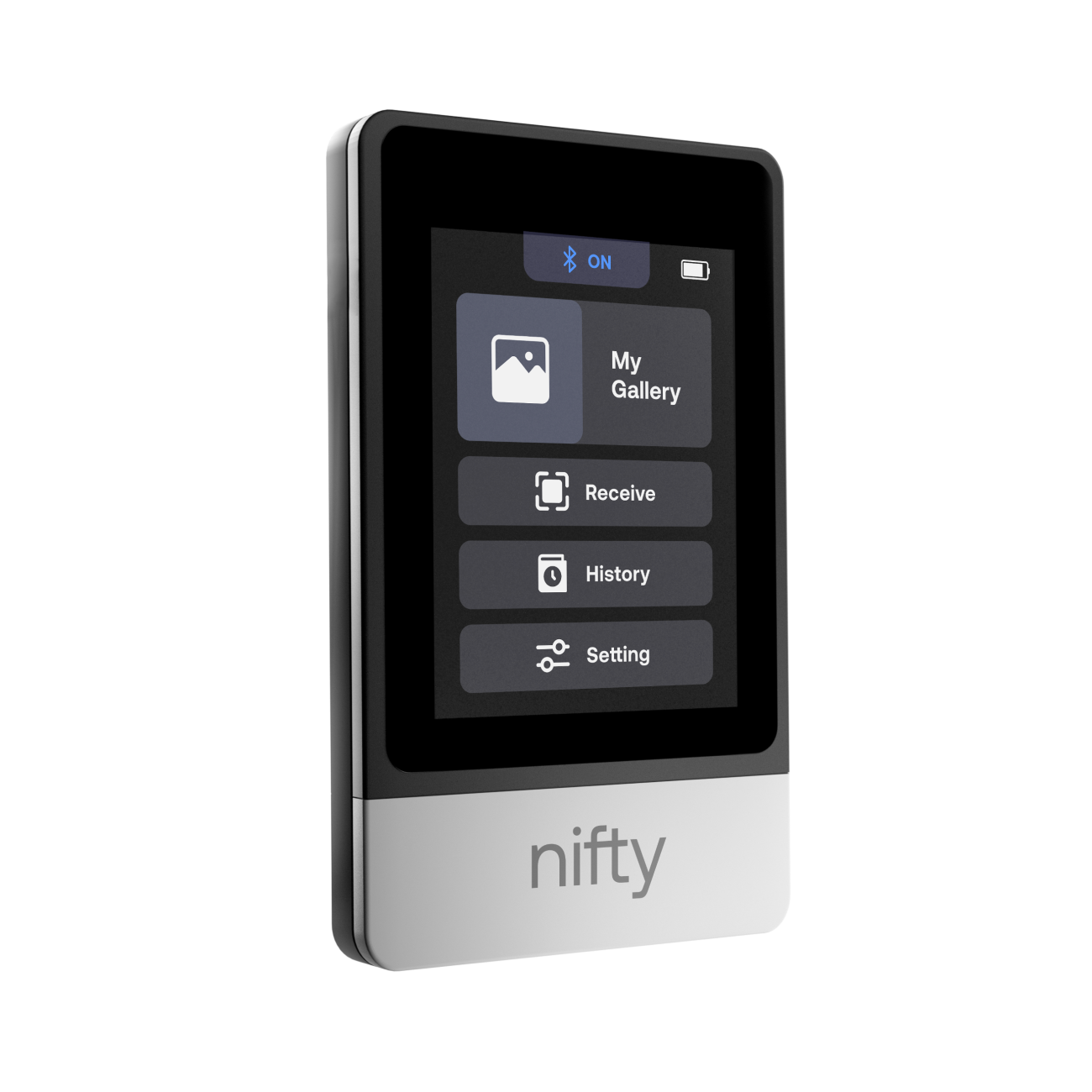 How does the Nifty NFT Hardware Wallet work?
Now let us know how this device works. The wallet allows the holder to keep a look at their digital assets and keep all of them in a single place. No matter where you buy them, you can move all of them to this hardware wallet.
When you receive this device, you need to remove the security sticker from the USB Type C port and turn the device on for the first initialization. Now just download the app to manage everything on your wallet with a Bluetooth connection.
The transferring process of NFTs to the wallet is straightforward. You just need to put the right address in your wallet to move it from the current wallet.
There is also a customizable gallery that allows users to access all the NFTs while staying offline. You can also organize your collection at your convenience.
To Sum Up
SecuX Nifty NFT Hardware Wallet is one of the most secure wallets of all time. Users don't need to worry about theft, tampering, or any cyberattack. The military-grade and multi-faceted security simply ensures higher protection in every single aspect.
A sleek and unique design, personalized gallery, keyboard protection, and cross chain support make this wallet a perfect choice to store NFTs. As it provides complete access to Defi apps so that all the transactions can be completed with ease.