How To Run Crypto Trading Bots On Your Mobile?
Crypto bots are now in your pocket, and you can trade your favorite coin pairs as if you did in a full-mode web version. Simply download TradeSanta's app for Android and iPhone, create trading bots and manage them while waiting in line or being stuck in traffic.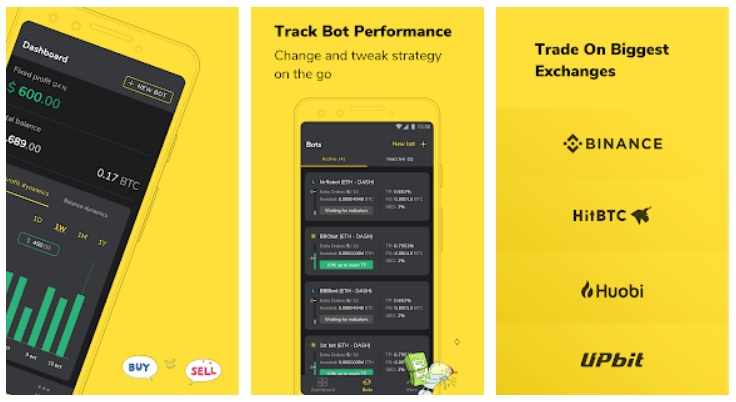 With TradeSanta's app, you can adjust the bot to your specific trading style. For example, you might want to place take-profit targets for every order separately or for all the orders executed, choose different strategies, set up order volume, the number of extra orders, and track the dynamics within certain timeframes.
Among other features available in the app, you can also check out trade history, realized profit, the number of trades, overall profitability indicators, trading charts and so much more.
That said, the app is a great on-ramp for the newbies, since the trading flow helps you start on a lighter note. In particular, it's now users can create TradeSanta's account from smartphone and connect it to the exchange with just a few clicks.
TradeSanta bots trade 24/7, can place dozens of orders simultaneously and with no emotions involved, give you significant advantages over other traders. The most prominent exchanges, such as Bittrex, Bitfinex, HitBTC, Huobi, Binance, UPbit, are already connected to the app, and the team works on adding more trading venues.
So the only thing you need to do is to choose your trading plan. There are different options out there, including a free plan. With the Minimum Package, you can run up to two bots with a maximum of $3K trading volume for free.
As for other plans, the prices vary, yet, when buying annually, you pay less: the Basic plan for $14 per month allows you to use up to 49 bots with an unlimited trading volume and number of pairs. With the HitBTC promo for $21 per month, it is up to 49 bots, whereas, with the Maximum Plan that costs $70, you can run an unlimited number of bots.
Download the app for Android and iPhone.