It is undeniable that Non Fungible Tokens have become an indispensable segment of the cryptocurrency industry. NFT's adventurous journey towards s cess was initiated in 2015 when its first NFT was launched on Etherum.
Since then, NFT's are acting like a lethal weapon to tackle the barriers of intermediaries and connect the real owners to the potential customers directly. Moreover, the booming popularity of NFT has led to its expansion on several different blockchains as well, which Tezos is one of the most renowned ones.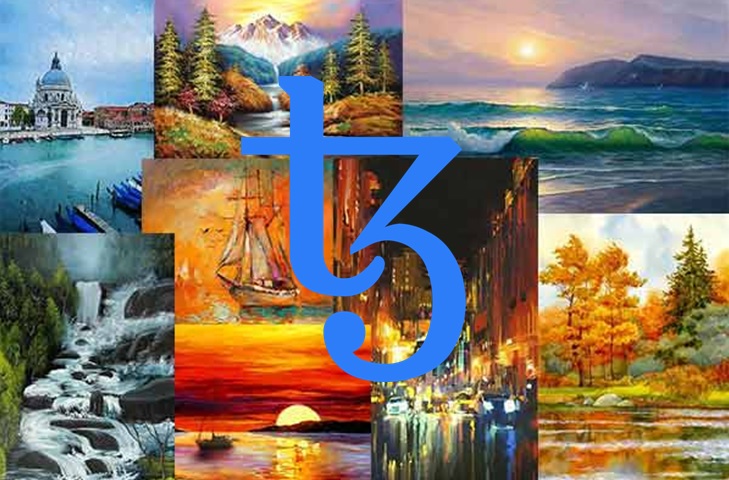 But which Tezos marketplace will be best for me?
Numerous options available on Tezos can bring you in a state of dilemma on which Tezos based NFT marketplace will be best for you. Moreover, selecting the right marketplace becomes crucial for you as the wrong one can lead you to face catastrophic consequences and a drastic decrease in profits.
Here are a few things you should consider while looking for a marketplace:
Base Currency: Since NFT is built on various blockchains, they are not on one platform. Therefore, the base currency differs from marketplace to marketplace. While some will be compatible with a particular cryptocurrency and some may require some additional compliances.
Type of NFT:  Whether you are interested in gaming or appreciate art pieces with unique styles, having mental clarity on which type of NFT you want will make it convenient to select an ideal marketplace for you.
Gas Charges: The gas charges are distinct in marketplaces. While few of the marketplace may charge you an excessive amount of money for gas, few will cost you a considerably less amount, helping you generate maximum profits. Hence, gas charges become a significant factor to be taken to into consideration.
Best Tezos NFT Marketplace
Now that you are well-acquainted with what you should consider before selecting an NFT marketplace. Here are the Top NFT marketplaces based on Tezos:
Unquestionably Hic et Nunc is the most renowned Tezoz based NFT marketplace specializing in the trading and minting of NFTs. It was developed less than a year ago by Rafael Lima. Its growth skyrocketed instantly, bringing the marketplace in the top twenty marketplaces as per the latest ranking of Dappradar.
It gained its popularity as a Green NFT. This is because it functions on a proof-of-stake consensus algorithm, which consumes considerably less energy than other NFT marketplaces available on Ethereum.
Tezos.Art is a multipurpose NFT Marketplace fro where you can get updates on other trending Tezos based marketplaces.
In addition to its navigation guides to other marketplaces, Tezos marketplaces offer an extensive range of virtual wallets compatible with Tezoz. These wallets have unique compatibility with multiple devices, social media integration, and high-end security systems. A few of the renowned wallets on the website are Galleon, Kukai, Temple, and Airgap.
OBJKT holds the position at the top of the list due to its distinctive mechanism for token trading. Auctions on innovative contract technology are organized for the trading of NFT tokens. Moreover, an innovative combination of unique mechanisms and reasonable transaction charges is the secret recipe of OBJKT.com's enormous success.
But OBJKT relies on Hic et Nunc platform holistically because the only NFT's listed in the Auctions are HEN tokens. A Fixed transaction charge of 2.5% is applied on every transaction irrespective of the type of transaction.
Bazaar has claimed itself to be a carbon-negative marketplace and was developed at the beginning of 2021. Furthermore, the Bazaar donated a significant share of its profits to the organizations working on reducing carbon emissions. Hence, it helped Bazaar create an optimistic impression of a genuine green cryptocurrency marketplace.
Bazaar launched a method of authenticating and verifying the actual creators of NFTs with the help of their social media handles which acted as a catalyst to increase the buyers' trust in a particular NFT.
On top of its verification features, Bazaar also can remove the verified status from an artist's account if they are caught red-handed on being involved in malpractices like plagiarism.
Final Words
Now you are all set to invest in NFTs as we addressed all necessary factors you need to consider before buying an NFT, which are the Top NFT marketplaces based on the Tezoz blockchain. But, no need to be hasty; invest your money wisely; otherwise, you may face dire consequences eventually.