The crypto winter of 2018 has taken its toll on many things, such as shitcoins, net worth of HODLers, trading at spot exchanges. But it has had a massive positive effect on one thing, trading of Futures on bitcoin and other altcoins. This is because derivatives like Futures offer you two features that are missing in spot trading (i.e. actually buying/ selling cryptos): (a) ability to go either long (you make money when markets go up) or short (you make money when markets go down) and (b) leverage. Astute traders love both these features, especially in a bear market. Visit Exchange Website
At the beginning of this year, there were only two well-known exchanges that offered cryptocurrency derivatives trading, OkEX and BitMex. However, the rising prominence and popularity of cryptocurrency Futures has resulted in several new exchanges (and even some old ones) to foray in the space. One such prominent entrant is Delta Exchange.
Delta Exchange Review – TradersFirst Crypto Derivative Exchange
I have been following Delta since their launch in mid August. It was the impressive background of the founders that made it a project worth tracking for me. However, it is the execution over the last 3 odd months that has made me a believer in Delta. The team has consistently launched new contracts (XRP, XLM and BNB Futures), new features (advanced orders, convert to USDT) and new UI. Moreover, the liquidity on the platform continues to grow, showing that the execution focus is yielding results.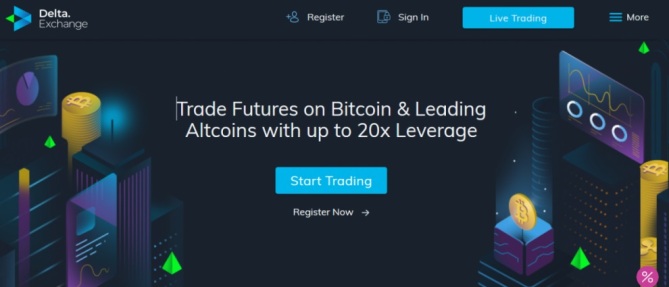 Here's a list of things that I like about Delta and that make it an exchange you should keep an eye on:
Strong founding team: Two of the founders have previously worked with bulge-bracket Wall Street firms like Citi and UBS and have deep experiences with financial markets, especially derivatives trading. The technical founder is a serial entrepreneur and has previously built and sold companies that were backed by the likes of Softbank and Sequoia.
Experienced advisory board: The founding team is being mentored and supported by advisors with leadership experiences in diverse areas. Notable among the advisors are Prof Bhagwan Chowdhry of UCLA Anderson, who is also an advisor to Stellar Development Foundation, and Stani Kulechov, CEO of EthLend.
Traders- first approach: The current landscape of the crypto exchanges is like the wild wild west where market manipulation, front-running and overall mismanagement are quite common, even in exchanges doing billions in daily traded volumes. In such an environment, it is refreshing and commendable to see an exchange taking the high road and committing to treat its customers with fairness and honesty.
Reliable liquidity: While the trading volumes at Delta currently are small compared to its more its more established competitors. Despite this, the quality of liquidity at Delta is at par with its peers. For example, in the BTC-USD Futures contract, the spread in the order book is at tight as in BitMex and the order book has depth of about 50 BTC on each side.
Enterprise-grade security: The infrastructure Delta Exchange is kept behind a strong firewall with only very limited parts exposed to the Internet. The crypto in the exchange's custody are held in multi-signature wallet and for enhanced security, withdrawals are processed only once a day after manual review.
Attractive referral program: Delta currently has one of the most attractive affiliate program in the crypto space. The exchange offers 25% share of the trading fees earned from affiliate referrals for 1 years and subsequently 10% for lifetime.
Conclusion

It is still early days for Delta exchange and there's a long way to go. To be able to compete with the current leaders in the crypto Futures exchange space, Delta will have to continue to execute. In particular, the exchange needs to launch the perpetual swap contract which is the most popular way for traders to participate in the crypto derivatives market.
In their blog, the Delta team has mentioned that perpetual swap is in the works. The other thing that would be critical in gaining traction with more serious traders is cross margining. Currently, the exchange only supports isolated margin. It is my belief that once Delta has addressed these two gaps (i.e. perpetual contract and cross-margining), it would be a strong contender for a top three spot in the cryptocurrency Futures trading venues.