Top 5 Best Cryptocurrency Exchange with Lowest Fee In 2019
What will you do if you want to trade between multiple crypto currencies? Exchanges are the best solution where you can exchange coins with each other for a fee. One of the major issues faced today by all the cryptocurrency traders is high exchange charges. This means that if a trader wants to exchange or transfer or trade their crypto currencies, he or she must have to pay excessive fees, which vary from exchange to exchange.
Recommended Post: 25 Best Decentralized exchanges.
Crypto Exchanges With Lowest Fee
Some exchanges impose very high transfer charges and trade fee, but some others impose low or affordable charges. Below is the list of Top 5 Cryptocurrency Exchange With Lowest Fee:
BITMEX
Bitmex.com is recommended for users already having bitcoin and want to trade them with high volume with margin trading. Trading fees on Bitmex is really low – they charge a maker fee for Bitcoin and Ethereum of only 0.025% and a taker fee of 0.075%. While the Long and short funding fees on BitMex are 0.01% every 8 hours. Bitmex is a platform used by experienced traders, they offer trading altcoins like Cardano, Bcash, EOS, Tron and Ripple. Sign up to Bitmex to get 10% extra discount on trading fees for 6 months. Join BitMex Exchange 
BINANCE
It is one of the best options to go for crypto currency trading since it is a popular platform in the crypto market. Any user with a considerable amount of crypto coins in their wallet can perform trading on this platform to get high returns. Especially, trading of crypto currencies like bitcoin (BTC) and Ethereum (ETH) are highly recommended for this platform. It imposes very low fees for trading, which is around 0.1% for each and every buy or sell order. (Read Binance Review)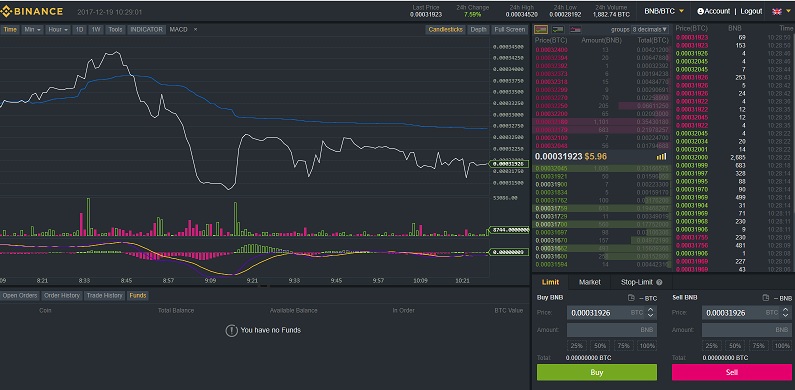 It also does not charge anything for making deposits. But for the only thing that the users need to pay is for withdrawal, which basically depends upon the type of crypto currencies used.
An additional feature of Binance is that the users will be charged only 0.05% for crypto currency transfers, in case of using the platform's own coin called BNB. Visit Binance Exchange
GDAX
It is a counterpart of a crypto currency exchange called Coinbase that facilitates easy transfer of crypto currencies at an extremely cheaper cost. It is perfectly suitable for the direct purchase of crypto currencies with fiat money. It does not impose any charges for making withdrawals or deposits. Any user can utilize services of GDAX by making a connection with their coinbase account. For that, the users need to have a coinbase account of their own. Once a user has made this link, he can perform trading as per the following fees percentages: (Read GDAX Review)
Percentage of trading charges for makers: 0%
Percentage of trading charges for takers: 0.25%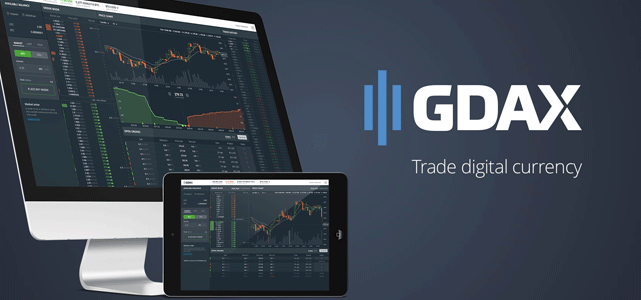 Maker trading has considerable liquidity with respect to an unfilled buy and sell offer, whereas the taker trading does not have any liquidity with respect to a filled buy and sell offer. Visit GDAX Exchange
BITFINEX
It is a low charge trading platform in the crypto market, but it imposes slightly higher trading charges in comparison with HitBTC and Binance. Such charges are listed as follows: (Read Bitfinex Review)
Percentage of trading fees for makers: 0.1%
Percentage of trading fees for takers: 0.2%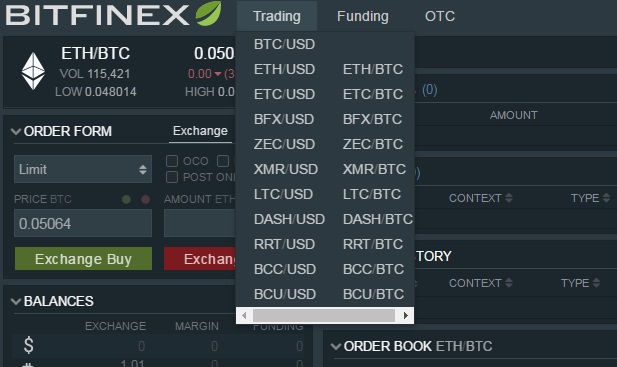 Also, it charges a little for making withdrawals (depends on the cryptocurrency type), but it does not charge anything for making deposits. We have published an article on How to Start Using Bitfinex for the first time users, in case you are not familiar with the interface. Visit Bitfinex Exchange
HITBTC
It is one of the best crypto currency exchanges with low trading charges, which is approximately around 0.1% for each and every trading order. (Read HitBTC Review)
It is not that much familiar as other crypto currency exchanges, but the users of this platform can be able to perform trading (buying or selling crypto currencies) in a simple and easy manner. Visit HitBTC Exchange
Some other exchanges with small fee:
The following are some additional exchanges to perform cryptocurrency trading at a lower cost:
Percentage of trading fees for makers: 0.15%
Percentage of trading fees for takers: 0.25%
Percentage of trading fees for makers: 0.16%
Percentage of trading fees for takers: 0.26%
These trading charges are 0.01% higher, while compared with Poloniex.