Signals.Network ICO Review : Signals for Trading Cryptocurrencies
Signals.Network (SGN) is an abbreviation of Signals network, which is nothing but a platform for data science. This exclusive platform assists the users in various trading-related aspects such as the creation, discovery, and monetization of cryptocurrencies. These aspects usually involve enhanced computing power, crowd knowledge, and machine learning.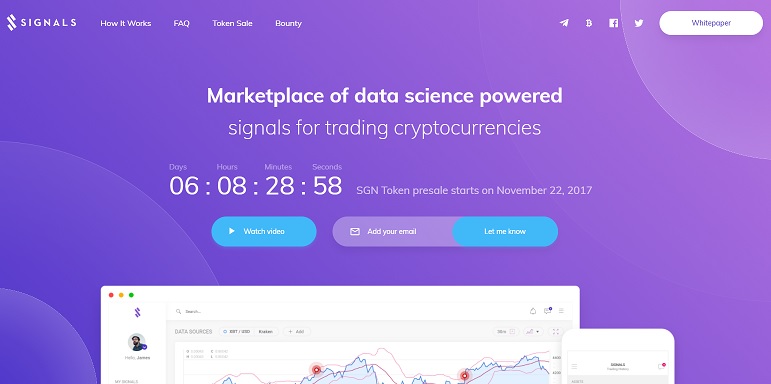 It is basically an Ethereum (ETH) powered network and it uses the technology of blockchains. This network is being operated on the basis of the .NET modular framework. It involves a computer language known as 'C#', which was originally established for checking the movement of cryptocurrencies. It is also planning to expand the Microsoft .NET framework for effective monetization.
The tokens of the signals network are usually referred to as SGN tokens, which are nothing but ERC – 20 tokens. Generally, Ethereum wallets are used for the storage and transfer of these tokens.
Pavel Nemec is the Founder as well as the Chief Executive Officer (CEO) of this platform. Pavel Volek is the Co-founder along with Nemec.
Token specifications:
Total number of tokens available for token sale: 150,000,000.
Maximum cap limit for fund raising: 500,000 US Dollars ($500,000).
Percentage of SGN tokens allocated for the public contributors: 50%
Percentage of SGN tokens allocated for operation and developmental purposes: 18%
Percentage of SGN tokens allocated for rewarding purposes: 20%
Percentage of SGN tokens allocated for the partners and advisors: 10%
Percentage of SGN tokens allocated for Bounty campaign: 2%
Sections in the interface of signals network:
The following are the three different sections available in the signals network:
Marketplace for indicators: This section allows a variety of algorithm updates by the developers. It also facilitates the transfer of those algorithms into indicators, which are nothing but user–friendly components.
Marketplace for data or information: This section allows the monetization of data sets corresponding to the external vendors and users.
Marketplace for strategy: This section allows the methodology of copy trading, which is highly useful for efficient traders.
Unique features of signals network:
It is a decentralized data–driven marketplace for the trading of cryptocurrencies.
Its interface is so-called a 'strategy builder', which does not require any sort of programming skills to perform trading. Instead, it holds an automatic strategy for trading.
It creates a bridge between cryptocurrency traders and data science developers.
This platform depicts the significance of machine learning strategies, thereby letting the users gain a huge profit.
The data science community paves a way for profit optimization by delivering the state – of – art algorithms to cryptocurrency traders.
It offers trading facilities on a 24*7 basis.
Its application is available for both MAC and WINDOWS operating systems.
It offers a bonus of around 30% to all its investors.