On.Live ICO Review : Here is Why You Should Participate In ONL Token Sale
On.live is an online decentralized ecosystem that offers live broadcasts, paid advice and computational power. It is purely based on peer – to – peer mechanism and it uses the technology of blockchains for its operation. The major intention of this platform is to create an outstanding revolution in the fields of remote consultations and video broadcasting services.
It ensures content safety by allowing only particular recipients to decrypt the contents broadcasted by the broadcasters. It actually relies on the field of live video streaming. It holds a distinct protocol known as ONLIVE transactions protocol that helps in issuing transaction confirmations, in case of video transmissions. It is planning to become a leader in the industry of live advising, thereby giving its users the authority to have access to the knowledge pool. All the services offered by this network are easily accessible with high speed and quality.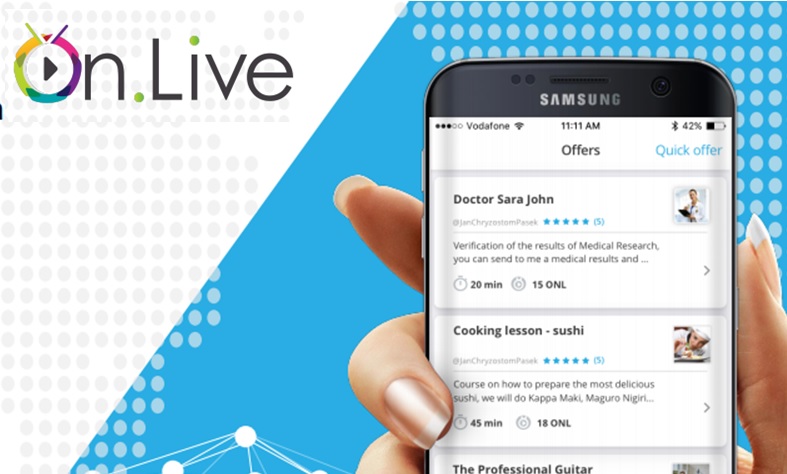 When a user wants to sell his live services via on.live, he needs to have his own channel, through which he can be able to broadcast services to various audiences. Once a customer has accessed those services (live video broadcasts), he will pay for the accessed services. Thus, in turn, the users will be getting benefited with a huge profit.
Chris Rybka is the Founder and Daniel Bayer is the Chief executive Officer (CEO) of this platform. Anna Rybka – Krysiak is the Co-founder along with Chris.
Token specifications:
The tokens of ON.LIVE are usually referred to as ONL tokens, which are fee currencies utilized for delivering several services including transcoding and transmission. Of course, the one and only payment option available with ONLIVE is the ONL token payments. The ONL tokens are utility tokens, which are being designed as Ethereum ERC-20 tokens.
Total amount of ONL tokens allocated for pre – ICO is 12,210,000.
Total amount of ONL tokens allocated for ICO is 61,050,000.
Total amount of ONL tokens supplied is 111,000,000.
Hard cap limit of pre – ICO is 14,000 Ethereum
Hard cap limit of ICO is 100,000 Ethereum.
Percentage of ONL tokens allotted for legal insurance purposes: 1%
Percentage of ONL tokens allotted for advisors: 5%
Percentage of ONL tokens allotted for marketing and bounty programs: 6%
Percentage of ONL tokens allotted for the founding team: 11%
Percentage of ONL tokens allotted for the wallet reserves: 11%
Percentage of ONL tokens allotted for ICO: 55%
Percentage of ONL tokens allotted for Pre – ICO: 11%
Uses of ON.LIVE network:
The service providers are getting benefitted by the facility of selling their products or services to anybody as per their wish with the help of this distinct market-place.
Services provided by ON.LIVE:
The following are some of the notable services offered by ON.LIVE:
Live broadcast scheduling
Comfortable billing facility
Token (ONL) payments facility
Chatting facility
Offers and discounts facility
The HD quality broadcasting facility in a real-time manner.
Unique features of ON.LIVE:
It is a highly scalable and reliable platform.
It allows all kinds of users (from lawyers and doctors to job seeking individuals) to get contributed into the system, but the only requirement is that they should have the appropriate bandwidth and processing power.
It offers several advanced technologies like B2C and B2B to a variety of verticals including conferences, eLearning, and workshops and so on.
It offers its users the potential of earning additional income by performing the transcoding and relay operations.
It gives a variety of incentives to the valuable contributors with the help of its ONL tokens.
It delivers pay – per – view models and pay – per – minute billing strategies.
It gives a discount of around 30% to its contributors of pre – ICO.
It has a built-in advertisement system within the network, through which a variety of advertisements are being displayed and the advertisers are earning huge profits by distributing ads across the network.
It eliminates the need of contacting advisors directly for acquiring vital advice, since it offers those services in an offline mode without meeting the advisors face – to – face.
It ensures security with the help of its smart contract system.