Magos Review (MAG Tokens) : Future Events Prediction with High Accuracy
Magos is an online decentralized platform with collaborated neural networks. It purely relies on smart contracts and offers a variety of cutting – edge solutions that rely on Oracle. It uses the technology of blockchains and is a complex model for forecasting a system. All the events, which are going to happen in future days are predicted accurately by this distinct platform.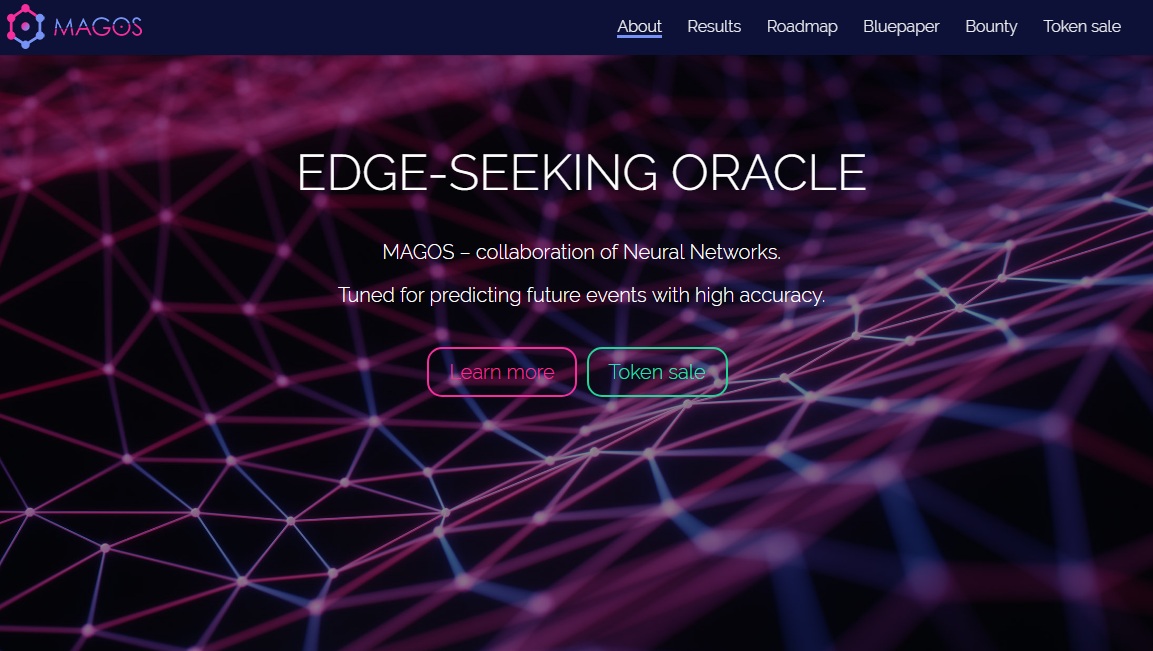 It is an ethereum (ETH) based network and the funds of which can be accessed and managed with the help of an AI. It has now extended its operations to sports books and prediction markets. Also, it has planned to expand its services to some other fields including the management of digital assets. Minimum investment goal is 6000 ETH while the maximum goal is 22640 ETH. If minimum goal  is not achieved by the end of the ICO, all the investments will be refunded.
Accurate event outcomes are predicted by combining the powers of each and network together in a system. Generally, Magos is a combination of the following five types of neural networks:
Strategus: It is a network with high risk management factors. It is also responsible for the monitoring and maintenance of growth of investments made by the users.
Melius: It performs auto tuning of a variety of hyper parameters, depending on the modification of external environment and the overall performance adjustments of the model.
Galaxia: It is a network with the aspects of classification and data mining. It delivers information or data to various high – level networks with very low noise. Such data are extracted from the web, APIs or some other sources with the help of smart plugins.
Ariolus: It collects various network outputs and combines them to make prediction with high accuracy.
Obelus: It overcomes uncertainty with the addition of several add–ons and rule sets including information sufficiency, volatility evaluation and detection of malicious software.
The major motto of Magos is to detect the capacity of neural networks by using the technology of blockchains. Ante Magnusson is the Founder as well as the chief executive officer (CEO) of this platform. Andreas Theiss is the co – founder along with Ante.
Neural network:
A neural network is the one, which simulates the application or software of a biological brain. The major duty of such neural network is to identify the big data patterns. The network can be able to predict future data patterns by undergoing an unique training on the present data samples. It is usually referred to as AI or true artificial intelligence due to its learning capability.
Token Specifications:
The tokens of Magos are usually referred to as MAG, which is nothing but an ERC – 20 token.
Percentage of tokens allotted for investors or token holders: 85%
Percentage of tokens allotted for fund re – investment: 10%
Percentage of tokens allotted to meet the operational expenses: 5%.
Unique features of Magos:
It contains a team of experienced professionals, who are responsible for the supervision and management of funds.
It performs valuable and efficient forecasts on the future.
It delivers outputs with extra ordinary performance and greater accuracy.
It supports the addition of several new features and upgrades into the system.
It generates huge profits to the users.
It offers an ROI (Return On Investment) rate of around 28% to its investors.
Important Links:
Facebook link: https://www.facebook.com/MAGOS.io/
Twitter link: https://twitter.com/MagosNetwork