INTRO ICO: A Real Estate Ecosystem For Market Players
INTRO is a platform where any builder, investor, homebuyer or agents can participate for any off-plan development of real estate. The INTRO was originally initiated by the IT Division of Gosstroy, a major real estate company in Russia. The main aim was to secure and protect the investments of the investors and buyers and also to ensure transparency of the Global off-plan market.
What is INTRO?
INTRO is a BI or Business Intelligence System developed to facilitate the buying and selling of all under-construction properties mainly in Russia, CIS and BRICS countries. It also aims to provide IT products for private homebuyers as well as the industry professionals of the real estate market.
How It Works?
Real estate purchase is considered to be a long-term investment for buyers. In many countries such as India and Dubai, purchase of ready-made properties or even second-hand properties is not feasible due to lack of availability of properties and huge cost involved in such investments. So, many buyers opt for off-plan or incomplete houses due to shortage of funds. This involves risk and does not secure the investments due to low market transparency. This is a very common scenario in Russia and the BRICS countries. The INTRO System was mainly designed to secure such investments and provide a common platform to all the market players to make such transactions.
INTRO uses an Artificial Intelligence or AI to collect and process the data of all under-construction properties from the official state registries, which are stored in the Blockchain. The INTRO Analytica is a BI which processes all these raw data for property rights claims and also makes market analysis and forecasts. Thus, it ensures that there is no violation of properties rights or personal data of the INTRO users.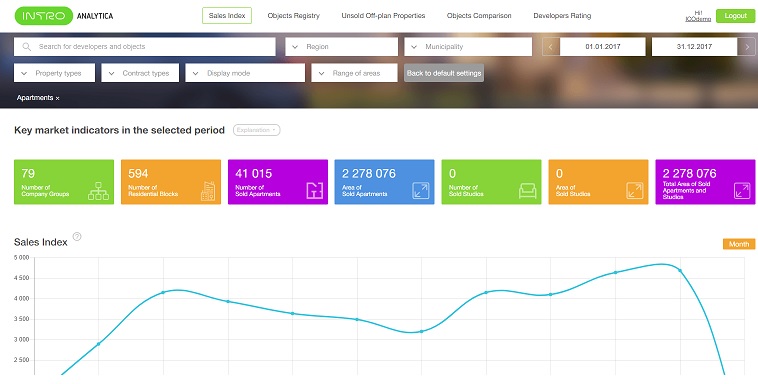 Try Demo of INTRO Analytica: login – ICOdemo, password – 100INTRO
Try Demo of INTRO Sale:     login – partners@introrus.ru, password – 1TokenINTRO
The INTRO Sale is a private online auction platform where all the buyers and sellers can sell and buy properties. Smart contracts ensure a save up to 30% on such property sales.
Problems Identified in Real Estate Sector
Earlier there was no unified register for the under-construction properties.
The off-plan property market was not an organized sector.
Lack of proper management and control of the off-plan property market.
The potential off-plan investors had a very limited access to the records of the properties.
Obstruction in regular cash flow for the developers in the market.
Many times projects were abandoned due to lack of proper resource and on-time cash inflow.
Risk in real estate purchase for the buyers.
Solution by INTRO
The role of INTRO is to solve all these problems that the present off-plan global property market is facing.
INTRO Tokens for access to the INTRO Ecosystem for all buyers, investors and market professionals.
A common online user-friendly platform which is accessible to all the participants of the market and also provides transparency to the market.
An open access to all, even the individual buyers and investors into the global market.
INTRO COINVEST is a platform for collective investment and also co-investment and shared ownership of real estate.
INTRO RESTATE is another feature where property can be purchased in instalments.
Restricts the intermediaries like real estate brokers or lawyers.
Users of INTRO can now choose properties of their choice and invest using smart contracts.
INTRO ICO Details:
Token Price: 1 ITR 40 USD
Maximum Goal ( Hard Cap ) : 15,000,000 USD
Minimum Goal (Soft Cap) : 3,000,000  USD
Minimum purchase per person: 12 USD
Maximum purchase per person: 5,000,000 USD
Total produced Tokens: 200,000,000 ITR
Pre-sale: 2,000,000 ITR
Pre-ICO: 10,000,000 ITR
ICO: 148,000,000 ITR
Accepted fiduciary currency: EUR, USD
Accepted cryptocurrency: BTC, ETH, LTC, DSH, BCH
Countries where citizens are allowed to purchase INTRO Tokens: All countries, except the People's Republic of China and the Socialist Republic of Vietnam
Important Links: 
Contact Coinfunda on Telegram: @coinfunda