HOQU ICO Review : World's First Decentralized Affiliate Platform
The World's first decentralized affiliate platform and the future of digital marketing, HOQU is a project like Uber and Booking.com with an aim to combine the performance-marketing model with Blockchain technology. HOQU assimilates advertisers, networks and affiliates them into a single platform, considerably lowering the financial costs for all types of market contributors. This will make internet marketing easy for its contributors, thus creating a decentralized ecosystem where market contributors can openly cooperate.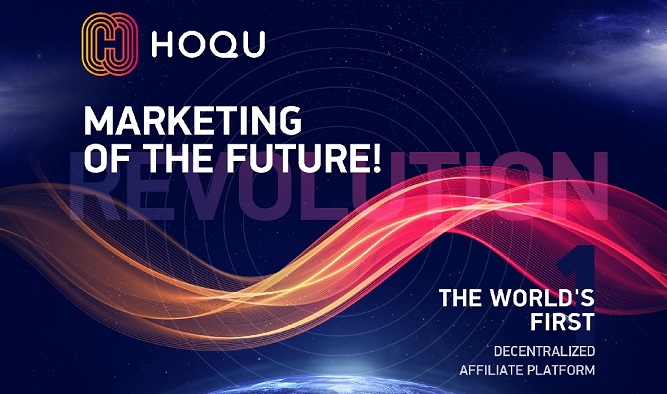 HOQU is more than just a platform—it's an ecosystem, designed to enable the launch of decentralized, Blockchain-based marketing platforms. In doing so, it cuts costs, heightens transparency, and boosts productivity in digital marketing.
HOW HOQU WORKS?
Creating associated offers by an advertiser is very easy on the HOQU platform. The results of the associated advertising campaigns will be stored in distributed registries (Blockchain). The Software Development Kit will enable associates to incorporate networks with the platform; thereby lowering the cost of associating fees. Rewards will be paid through smart contracts that assure honesty and transparency of transaction. All data about the whole process stays within the Blockchain, and so it can be easily verified by anyone involved.
The HOQU ecosystem involves several key players: Merchant (advertiser) who hosts offers on HOQU. Affiliate (partner) promotes an advertiser's offer independently deploys and maintains a marketing network by attracting customers. Affiliate Network (partner network) helps in promoting all the offers and leads on the HOQU's platform.
ISSUES HOQU AIMS TO SOLVE
INDUSTRIAL ISSUES: Artificially generated machine traffic due to fraud and cheat advertisers is a big problem for the industry. With the technology of Blockchain and smart contracts, the reputation control system and CPA system, HOQU totally removes chance of fraud.
PERSONAL IDENTIFICAL ISSUES: As a complete personal identification is must to join in HOQU platform as an associate or advertiser, HOQU successfully addresses the problem of remote identification and can be integrated with other Blockchain solutions.
ENSURING RESULTS: The transparency of transaction and honesty while transaction, helps the advertisers to be ensured about the end result.
SECURITY AND STABILITY ISSUES: The security and stability in current affiliate networks is poor. HOQU's decentralized software solution lets modules with self-contained; in the event of a program malfunction in any of the modules, the platform continues to work.
COST ISSUES: With a simple registration on the HOQU affiliate network, each and every associate and advertiser gains free access. Blockchain solutions will reduce the cost of storing platform user data and reduce the charge for affiliates and advertisers. HOQU reduces the time of payment through smart contract payments.
CONFLICT ISSUES: This ensures transparency and honesty in relationships between advertisers, affiliates, and affiliate networks.
FUNCTIONALITY AND EASE OF USE: HOQU works with all possible types of customer action and, in addition to services, offers several other types of collaboration.
ALL ABOUT HQX TOKEN:
A key component in the economy of the HOQU project will be the HQX token, which will perform an infrastructural function and is required for transactions between platform members. The rewards for affiliate networks and affiliates will have a fixed price in US dollars as well as a floating price in tokens.HQX will be exchanged on platform-independent exchanges.HQX tokens will be issued according to the ERC20.
3500 million HQx tokens will be available during the pre-sale and around 52 hundred million during the token sale. The pre-sale starts October 30th and ends on November 20th. The token sale starts November 27th and ends one month later on December 26th
Price: 1 ETH = 7,000 HQx
Minimum Purchase: 50ETH
40% early bird bonus
Regular Price: 1 HQx = 0.0002 ETH or 1 ETH = 5000HQx
WHAT CAN BE THE ASSUMPTION ABOUT HOQU?
HOQU is a unique step towards the future digital market and expected to grow at a rapid rate but investing into HOQU can be risky. As cryptocurrency market is a new industry, there are always regulatory, technological, financial and industrial risks while investing. But ones HOQU sets up to its aim, the investors are expected to gain a high return.
For more details on HOQU read the whitepaper available on official ICO website.