Hashflare Review – Is it Trustable Cloud Mining?
Cloud Mining is one of the most attractive method of earning online with crypto currencies but it is also true that 99% of the cloud mining platforms are scam. In our last article we have discussed best cloud mining websites those are genuine and profitable.  Hashflare is the best online cloud mining platform for crypto currencies like bitcoins. It is preferred by most of the experienced users on the basis of parameters such as reliability (stable payouts), ROI (Return On Investment) and transparency. Genesis Mining is another trusted and reliable cloud mining. In this post we are going to discuss some features of Hashflare cloud mining platform.
It is the most trusted site, which was introduced first by the team of hash coin experts. Hash coins got their presence in 2013, when a concept called crypto currency was established in the world wide market. Sergei Potapenko is the Founder of Estonia based hash coins, where these hash coins offer several hardware to their two megawatt data center.
Hashflare platform constitutes around 350000+ members and it was officially launched first on April 23, 2015 in Russia. Later its operations were extended to some other nations including Germany, Portugal, Spain, Italy and so on. Its cloud mining process is similar to the offers provided by the share trading platforms.
As of June 30, 2015, Hashflare constituted around 10,000 consumers totally. It is a new and innovative platform in the industry of cloud mining. It is an interesting platform that offers bitcoin mining at a reasonable cost. It is entirely different from conventional mining techniques, which involve equipment arrangement and support. It consumes only a little amount of power supply. It publishes mining photos and technical details on mining.
The users of this platform have to sign an agreement with a time span of one year for both Ethereum and DASH mining. During that period of time, it does not impose any extra charges, in addition to the mining charge.
But for SHA – 256 and scrypt mining, the users have to undergo a life time contract. In this case, hashflare imposes some extra charges for support, which depends on winning conditions. SHA – 256 uses Apollo miner and scrypt mining uses Ares miner.
Bitcoin Mining:
Bitcoin Mining is a process of verifying and recording block chain transactions of bitcoins. Bitcoin, also called as 'decentralized currency' is a type of crypto-currency which is made available in the form of digital or electronic currency. A Block chain is a distributed public ledger that accepts bitcoin as its account unit.
Unique features of Hashflare.io:
It contains a qualified support team for providing assistance to its users.
It offers extremely faster transactions when compared to the other crypto currency mining platforms.
It contains a simple and easily usable working interface.
It offers huge profit rates with an increased ROI.
It is highly transparent, safe and secure and can be accessed easily.
It does not have any options to monitor history of recent payouts.
It holds a special feature that lets the users to switch into a variety of mining pools.
It offers certain discounts and rewards to the expertised and experienced users.
It imposes only a low and easily affordable cost for maintenance.
It holds a two – way authentication method, which avoids information hacking by third persons. This in turn ensures the security of users' account.
It offers smooth withdrawal of payments.
The users can track the daily revenue rates, balance details, mining pool allocation and overall earning rates through graphical representation.
It provides a referral bonus of around 10 percent through its unique referral program.
How to Purchase Mining:
Signup for a Hashflare account. Click to Create Account
Click on "Buy Hashrate" on left sidebar menu.
Select the Type of Hashpower as per the coin you want to mine and select the amount.
Click on Proceed button.
Make payment.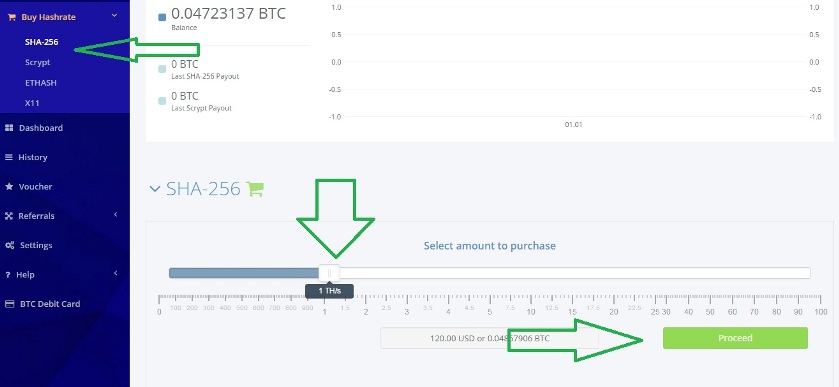 Types of cloud mining associated with Hashflare:
Depending on the spending limit of each and every user, Hashflare offers a diverse range of speculations. Apart from bitcoin mining, Hashflare offers the following mining techniques too:
Dash cloud mining
Ethereum cloud mining
SHA – 256 cloud mining
Scrypt cloud mining.
Payment options:
Hashflare is similar to a robot, since it makes on – time payments at an instant manner via the following options:
Bitcoin
Mastercard
Web money
Visa
Bank wire transfer
Payoneer
The assets can be received automatically by the speculators in their bitcoin wallets. They can also reinvest those assets, in order to get a huge gain or profit.
Hope this Hashflare review will be helpful for the readers to take a smart decision. Hashflare is one of the best and recommended cloud mining provider. Please share your experience and feedback on Hashflare cloud mining in the comment section below.