Why Existing Messengers except e-Chat Will Lose Competition in the Future
We have a clear understanding of how the next-generation messenger should look like. We see the dubious principles in which the leaders of the sector work Indeed, even the fact that each of us is using at least 5-7 apps proves that there isn't a unique one that could serve the requirements of all clients. We have investigated the functionality of leading apps such as  Skype, WhatsApp, Viber, Telegram, Hangouts, Line, and e-Chat.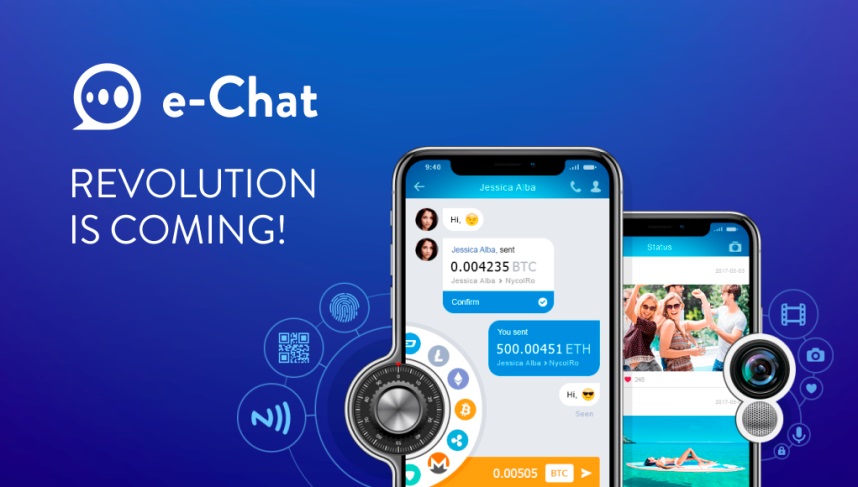 However, there is even a more concerning issue: the current circumstance undermines the correspondence itself. It's not a secret that the majority of communication apps are owned and controlled by organizations, and the fact that this sector is highly monopolized comes as an evident conclusion. In our opinion, the current state of events, where all messengers are ruled by certain bodies, makes online communication unsafe and limits the freedom of users.
Any kind of data left by users in messengers is stored on servers and can be received by state authorities on request or by force. Decentralization helps to get around such a problem. Technologies, implemented in one of the most advanced among messengers decision called e-Chat and providing powerful data protection, include IPFS, P2P and blockchain.
Thus, e-Chat is a unique tool for conversation and managing financial assets. The built-in multicurrency crypto wallet is designed to give users the opportunity to store, transfer, withdraw cryptocurrency and fiat money. Above all, the new messenger gives users new ideas and experience if interaction with content.
Developers at e-Chat are sure that soon they will witness drastic changes in online correspondence. Nowadays, it has become the main channel of communication. However, if the existing messengers don't change their policies and principles of operation, the users will just have the increasing amount of disconnected apps on their phones together with all the inconveniences such situation brings.
Cryptocurrency market has increased significantly this year – from $12 to $90 billion. The same situation is observed with mobile payments market that has been rapidly increasing for the last several years and in 2017 amounted to $780,000,000,000. Need for messengers and online payments is obvious. E-Chat is designed to fulfill this need. Communication, payments for online and offline services, individual transactions, payments within internal messenger ecosystem – all of these will be available for e-Chat users.
Having studied the existing messengers we discovered some considerable drawbacks,  and when working on e-Chat, we took all of them in consideration. It's the first decentralized messenger. Incorporating such promising protocols as blockchain, IPFS, and P2P, it has a lot to offer users. With e-Chat you can enjoy a high level of protection, the safety of your data, a built-in wallet, and end-to-end encryption, plus much more.
According to expectations, in 6 months the new app will reach 1 mln installations and users will be sending over 100 mln messages daily. The rapid growth of interest in the product is likely to turn into the increase of ECHT token price, that is set at level 0.7 for the pre-ICO period. The discount is available just until November, 15!
Unit 25A,
Wing Hing Commercial Building,
139 Wing Lok Street,
Sheung Wan, Hong Kong
+8 (528) 009-06441 – Hong Kong