Essentia ICO Review [ESS Token]: Decentralized Data Management
Essentia ESS is an online platform that introduces us to the world of decentralized digital community. It is a fault – proof, anti – abuse and anti – spam network that facilitates a connection between the personal information of one user and the digital ID of some other (opponent) user. It provides valuable decentralization as well as recentralization strategies. It offers inter – operability between machines, users and third party services. It gives complete authentication to its users over the following aspects:
Personal identity related information or data
Assets and
Privacy aspects.
The data or information here are usually denoted as 'seed'. The digital ID of essentia can be easily utilized across a variety of services, platforms and environments. It involves a wide range of decentralized applications, third party (intermediary) services and blockchains. It is purely based on the crypto graphic basics such as encryption, decryption and verification and so on.
Micro Mongiardino, Vladimir Holubovych and Matteo Zago are the three co – founders of this platform. It was established in 2017 in Amsterdam by a non – profit organization called 'Essentia One'.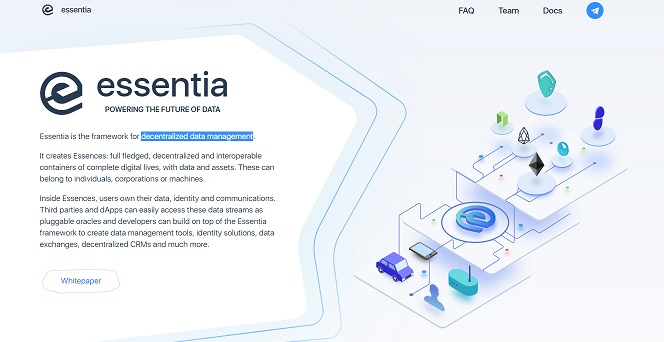 Essentia ICO and ESS Token details:
The tokens of essentia are usually called as ESS tokens, which are nothing but ethereum ERC – 20 tokens. A distinct module named ESS – Fuel module undertakes the responsibility of managing ESS tokens. These tokens are utilized mainly for incentive purposes, but can also be used for reputation management, distributed governance and for making third party payments.
Unique features:
It is a decentralized framework whose access is limited not only to humans but can also be used by IOT devices and machines and so on.
It is a highly scalable, flexible and trust – worthy platform that provides efficient integration of centralized and decentralized resources.
It is an open – source network that incorporates both hardware and software.
Its operation is very simple but powerful in nature.
It focuses mainly on the privacy of users.
It keeps each and every data in a private and confidential manner.
It offers safe and secure storage of data or information.
It gives access to all kinds of users, since it is a multi-chain cum multi-asset framework.
It helps in the creation of effective blockchain operating systems.
It provides integration with a variety of major blockchain projects including etherDelta, ethereum, Storj and Gnosis and so on.
It offers a decentralized server or desktop to the users.
It does not need any kind of identity details like phone number, email id or centralized application.
It gives support on a 24*7 basis.
Various sections of essentia:
The following are some of sections available in essentia:
ID section
Keyring section
Wallet section
Storage and exchange section
VPN section and
Dapp center and so on.
Major components in essentia:
ESS – ID (identity core)
ESS – OS (operating system) and
ESS – HOME (data environment)