Current ICO Review and Ratings – Why Should You Participate in CRNC Token Sale
Current is an online decentralized multimedia platform that uses the technology of blockchains for its operation. It is a media-based ecosystem with a unique protocol. The users of this platform are allowed to streamline specific video clips or music from the variety of multimedia networks like Youtube, Spotify and SoundCloud and so on. It has delivered an application for easy usage, which can be downloaded either from the google play store or the application store. In this article, we will discuss in depth about Current ICO.
It collaborates the media sources obtained from various networks to deliver an all – in – one best solution to its users. With respect to the specifications including contributions, time consumptions and data/information shares, Current offers rewards and incentives with the help of its specially designed protocol. When a user wants to get his favorite video or music, he needs to pay for that particular music or video in this ecosystem. Visit Official ICO Website.
Dan Novaes is the Founder as well as the chief executive officer (CEO) of this platform. Current holds approximately 200,000 users all across the globe and its outstanding services include highly comfortable discovery and search experience. The tokens of Current are normally called as currency (or CRNC), which are digitalized in nature. These CRNC tokens avoid the premium subscriptions made by the famous content providers.
Rating: It is rated as 4.4/5 by ICOBench. Our rating for Current is 8.5/10. Current ICO is also included in Best ICO List of 2018.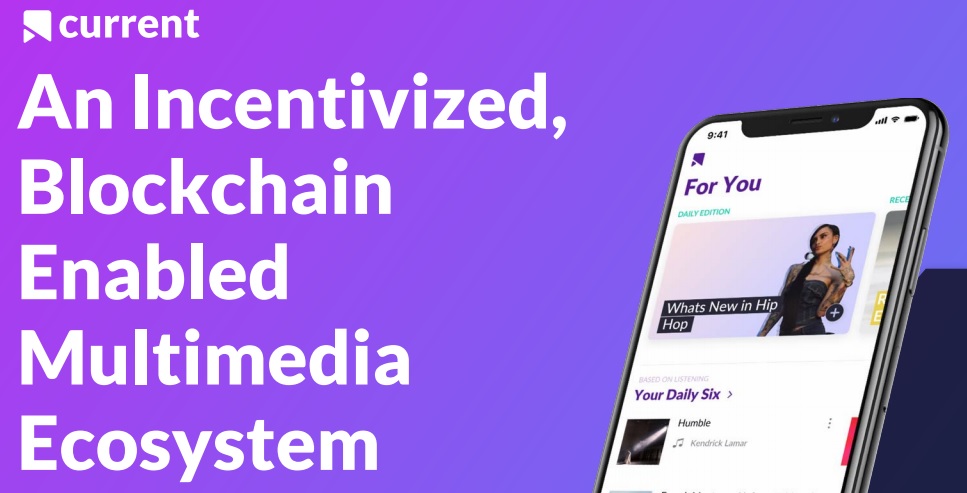 Unique features of Current:
It is a highly transparent and reliable platform that lets the users transmit or receive videos or music as per their wish.
It does not demand the users to have any sort of prior experience or knowledge related to blockchains.
It covers a wide variety of network types.
It allows users even with no cryptocurrency holdings with them.
It provides various valuable incentives (for streamlining operation) to the highly efficient users.
It delivers the data or information related to the audiences, thereby giving huge benefits to the advertisers.
It imposes only very low charges for the media subscriptions made across this platform.
Current – As a Solution to the Problem
Problem: The following are some of the major issues faced nowadays by most of the consumers and creators in the field of multimedia:
By creators:
Cost of networks
Middleman or intermediary services
Restricted reach of efficient audiences
By consumers:
Lack of content availability
Geographical limitations
Budget issues
The above-mentioned issues are normally due to the lack of efficient distribution and licensing system.
Solutions: An all – in – one solution to overcome all the issues faced by the creators and consumers is the Current ecosystem. Why because, it offers the following benefits:
To Creators:
Helps in reaching the targeted global audiences
Provides additional income opportunities
Distributing the profits directly to the consumers, thereby making the creators to gain huge profit rates.
To Consumers:
Helps in getting quality contents
Providing incentives with the help of CRNC utility tokens
Helps the consumers in accessing the contents from anywhere in the World.
Overview of Current ecosystem:
Current enhances the adoption of tokens (cryptocurrencies) by leveraging the media consumption habit all across the globe. By creating, curating and consumption the algorithm of Current, the users can be able to get rewards. Current helps its users in searching and playing quality contents across a variety of networks.
Merits of using Current ecosystem:
Retention of user data and advertisement revenue.
Offering rewards to creators for the partner network contents.
Offering rewards to consumers, depending on the extent of consumption or usage.
Offering rewards to curators for the curation of playlists obtained from a variety of content networks.
Advantages of using Current:
Current finds applications in the following strategies:
Free offline access
Robust video library
Podcasts and audiobooks
Internet radio, AM and FM
Worldwide access and availability
Token specifications – Currect ICO (CRNC Tokens):
Percentage of CRNC tokens distributed to the consumers is 55%
Percentage of CRNC tokens distributed to the curators is 20%
Percentage of CRNC tokens distributed to the creators is 20%
Percentage of CRNC tokens distributed to the referrers is 3%
Percentage of CRNC tokens distributed for the growth and development is 2%
Business model:
Advertising: display of video advertisements and banners to the appropriate users.
Subscriptions: Normally 4.99 US Dollars per mo.
Upcoming features:
User recording facility
Virtual machine usage for recording
User watermark and media processing facility
Temporary cloud storage facility for media
Facility of user notification for Media downloading.