CoinHouse Review: Best Exchange To Buy Bitcoin and Ether in France
Coinhouse is an online platform or exchange for crypto currencies like bitcoins, Ethereums and so on. It is a solid Bitcoin broker, which was launched in 2014 in Paris, France. Initially, its services were restricted to the France residents, but now it has been extended to the residents of all the European countries, Canada, United States and Singapore. It targets mainly on the users' SEPA area and allows them to purchase crypto currencies such as Ethereum (ETH) and Bitcoin (BTC).
It acts as a 'House of Bitcoin' for the customers in Europe. It imposes charges based on a number of crypto currencies purchased by the users. Those charges usually range between 6 to 10%. It imposes some additional charges for payments made with a non-EUR card.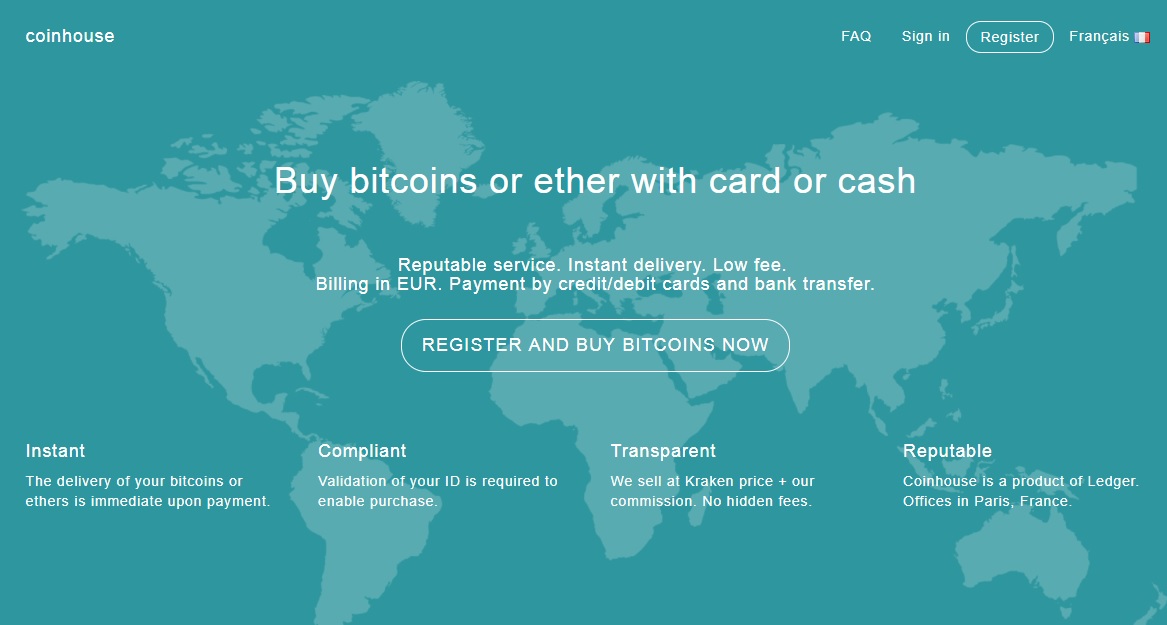 The concerns, which are associated with Coinhouse include Ledger.co and La Maison du Bitcoin. Ledger.co is a Bitcoin security company. In France, La Maison du Bitcoin is considered as one of the best platforms for crypto currencies. The alternatives of Coinhouse include:
The Bitcoin/Ether purchase through Coinhouse involves the following steps:
Maximum limit for crypto currency purchase:
For a day: 2,000 Euros
For a month: 10,000 Euros
Such limits might vary with respect to the documents' quality, which is submitted at the time of verification.
Payment details:
It accepts payments via debit and credit cards, which are 3D secure. Those 3D secure credit cards include Visa and Master cards. It also accepts payments via Neosurf prepaid cards.
Fees or commission details:
10% for 0 – 500 Euros
9% for 500 – 1500 Euros
8% for 1500 – 3000 Euros
7% for 3000 – 5000 Euros
5% for 5000 – 10000 Euros
6% for more than 10000 Euros
Unique features of Coinhouse:
It is a legit as well as a popular concern for crypto coin exchange.
It is highly safe, secure, transparent, fast and reliable in nature.
It protects the privacy of its users.
It extensively verifies the users' identity while purchasing the crypto currencies, in order to avoid theft issues. Such verification process involves the verification of Passport or ID, residential proof (proof of address) and so on.
It provides instant delivery of Bitcoins, once the verification process is completed.
It offers a dedicated customer support, which is available on a 24*7 basis.
It follows all the laws including AML (Anti – money laundering) and KYC (Know your customer).
It imposes only very low charges for all the transactions done on this platform. It does not impose any hidden charges too.
It protects users from chargebacks.
It offers reputable and remarkable services to all its users.
It overcomes the difficulties associated with crypto currency purchase.
It offers high liquidity since has a connection with the Kraken exchange.
It provides a referral income of 20% to the users through its unique network affiliate program.
Disadvantages of Coinhouse:
The users must submit a huge amount of documentations, in order to complete the verification process.
It is really a simple platform but looks somewhat complicated for new users.
It is accessible only on the desktop environments since it does not have a mobile android version.
Hope this Coinhouse Review will be helpful for our readers. Please share your experience and feedback with us in the comment section below.