Cindicator ICO Token Sale is Now Whitelist Only : Apply Now
Cindicator is an open source online platform or network that links the artificial intelligence of data scientists, financial analysts and traders. This ecosystem uses several innovative technologies, which are highly efficient for the purposes of analyzing, funding and trading. It performs effective analysis for the management of funds.
It uses the following two essential concepts:
Hybrid intelligence: Cindicator uses artificial intelligence as an enhancement of collective intelligence.
Collective intelligence.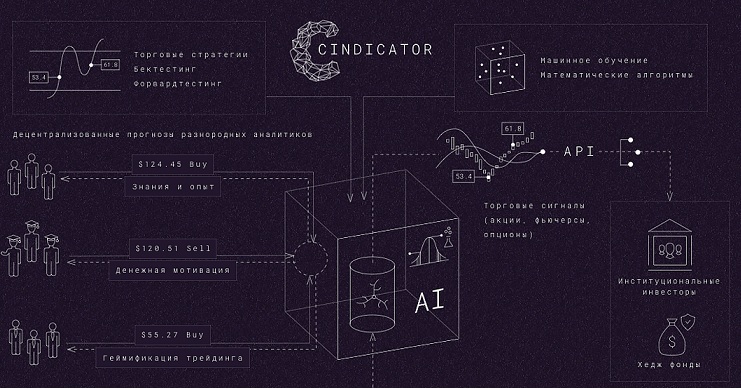 Cindicator overcomes the risks of overloaded blockchain network, money laundering, central bank effect and centralized thefts and attacks. It delivers huge profit by giving motivation to its token buyers. It's token sale gives a variety of benefits to each and every participant in the ecosystem. It helps in the enhancement of decision-making capabilities upon investments. It provides effective monetization of the users' intellectual assets. At present, more than 10,000 analysts are working in its team and the team size is further getting increased gradually.
It focuses mainly on the quality since it offers efficient analytics and forecasts of the financial market. It permits token holders from various countries and also from various professional backgrounds. It acquires participants, who are focusing on long term gains and rejects participants, who are looking for short term gains. It gives a great support to its analysts, forecasters, and investors. The total number of forecasters across this platform is approximately around 8,000. The mobile application of Cindicator is compatible with both IOS and Android devices.
Stages of Cindicator's token sale:
Crowdsale stage: The time duration of this stage is one month and it extends till it reaches the maximum hard cap limit. But after getting the huge response they have suspended crowd sale.
White list stage: This is one of the crucial stages, which is responsible for the gathering of the huge amount of funds. Cindicator Token Sale will be held only through the White List stages. For whitelist, you have to apply on their official website through your email id. If you are selected in whitelist you will an invite on email.
Private venture round: This stage is responsible for the compensation of each and every operating cost on the system by the creation of a technical security infrastructure and a solid legal framework.
Tokens of Cindicator:
The CND tokens offer access to data and products including the prediction of crypto currency and traditional markets. The level of access depends on a number of tokens. The token Buyback option is available with this platform since it ensures high liquidity. Its trustable brands include Microsoft and International VC funds.
Important specifications of Cindicator ICO:
Symbol of Cindicator tokens: CND
Hard cap limit of token sale: 15 million US Dollars ($15 million).
Soft cap limit: None
ICO's maximum market cap limit: 20 million US Dollars ($20 million)
Token type: ERC – 20
Bonus structure: Nil
Conversion value:
The value of 1 CND is 0.01 US Dollars ($0.01)
Competitors of Cindicator:
The following are the competitors of Cindicator in the fields of finance and artificial intelligence:
Crypto data providing competitors include:
Token access types:
Cindicator's token access involves the following:
Analytical products
Trading of auxiliary service products
Market indices
Crypto and traditional market indicators.
Important Links: