BitKong Gambling Platform Offers 8% Interest With Bitcoin Saving Account
Bitkong is a decentralized and innovative online gambling platform that permits the users to have their own bitcoin savings accounts. It simply lets the users enjoy a variety of traditional banking features. A unique feature of Bitkong is that it provides fixed returns to all its users upon their investments, irrespective of the profit or loss rates. At present, Bitkong is offering returns of around 8% to those users, who want to create savings accounts.
It was established in 2015 to make a difference in the industry of Bitcoin gambling. It is trying to reach its target audiences all over the world. It contains a simple interface and its services are being extended to around 22 types of currencies with its availability for around 12 types of languages. It also holds a variety of fair games, where the players are allowed to click the appropriate buttons displayed on the screen, which is somewhat same as that of picking a ball from cups.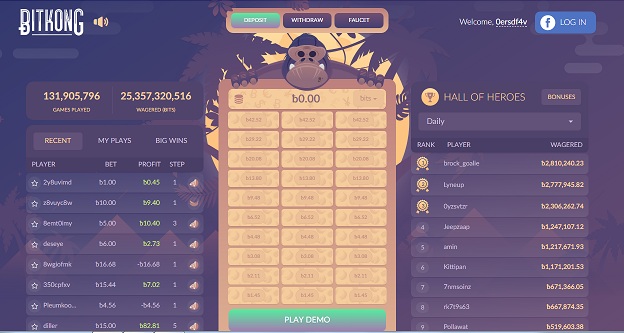 It has gained bets of nearly 25,000 bitcoins, so far it has been launched. It has also been estimated that its highest payout is 80 bitcoins till date. The actual worth of this payout is 1, 85, 700 US Dollars. It is also planned that Bitkong is going to launch another innovative social gambling site by expanding its overall operations. This new Bbitkong version will be expected to emerge with several break-through technologies and brand new ideas or plans.
Working procedure of Bitkong's savings account:
The savings account of Bitkong contains only limited options for getting the investment returns. But it holds all other features that are associated with a bank's traditional savings account.Even though there is a fluctuation in the interest rates, Bitkong offers an 8% interest per year to all the investors. Such interest rate is comparatively higher than the interest rates provided by traditional banks. Bitkong also permits the users to make withdrawals, once money has been deposited.
Scam issues associated with Bitcoins:
Bitcoin transactions are somewhat risky over the recent times. The reason is that the counterparties, who are receiving the bitcoins have a chance to run away with the funds received from the senders. This might happen especially in those cases, where the counterparty is maintaining millions and millions of dollars for a comparatively large user base. But it may also happen in cases, where the counterparties are highly anonymous in nature.
Security feature offered by Bitkong:
Nowadays 100% guarantee will not be provided by any game operator, but the only option for the investors is to trust the owners of the gambling site. In that way, Bitkong is a highly trust worthy platform, since it offers a great extent of security to the investors through its long term reputation as well as its game quality. It also offers a payment rate of around 100%, which is highly unique while compared with the other gaming websites.
The implementation of Bitcoin savings account was initially done to permit the site to accept bets from 'big money players' or 'whales'. Bitkong simply offers fixed returns for investments, instead of depositing funds directly into the bankroll.
A problem associated with the bankroll investments is that they need serious trust over the investment sites. But Bitkong is one such platform that is free of scam issues, where the investors can make their investments without any problem. Bitkong also operates on the basis of risk management algorithms, which thereby avoids long term losses.
Thus as a whole, the users of this platform will never be subjected to huge losses. Instead, hey will earn fixed returns upon all their investments.
There are few blockchain-based casino projects having their own cryptocurrency. As popularity of Bitcoin increasing everyday, there are many casinos currently accepting Bitcoin as a payment medium.  You may find a list of Bitcoin casinos on casinoguardian.co.uk