BitJob Review (ICO and STU Token) – Decentralized Student Employment
Bitjob is an online decentralized platform or network that offers employment opportunities for students all across the globe. It is the best recommended marketplace for employers, freelancers and students to earn an additional income.
It operates over the blockchain of Ethereum (ETH) and it uses ERC – 20 tokens. Its partnership concerns include Token market, BCB ATM, and Bancor and so on. The minimum contribution limit for its users to participate in the ICO is 0.01 Ethereum (Eth). The value of 1 ETH is 888 STU. (V )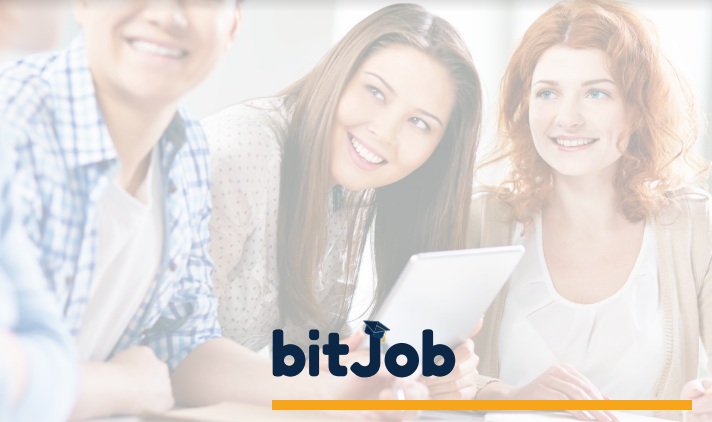 It offers benefits of both the bidding sites (via freelancing) and the micro – gigs to the students. It uses fiat currencies for making payments. It gained a great reputation for its outstanding services. Its users can make use of a web wallet named myetherwallet for the safe storage of their funds.
Dror Medalion is the Founder as well as the chief executive officer (CEO) of this platform. Bogdan Fiedur, Elad Kofman and Aviad Gindi are the three co – founders along with Dror.
Academic Partners:
Cyprus International Institute of management,
Cambridge Blockchain,
Thoughtfile and so on.
STU Token Specifications:
Total amount of STU tokens supplied: 200 million STU
Total amount of STU tokens available for token sale: 128 million STU.
Percentage of tokens allotted for crowdfunding and pre-sale: 64%
Percentage of tokens allotted for media bounties and marketing: 5%
Percentage of tokens allotted for Escrow protection and supervisory purposes: 2%
Percentage of tokens allotted for Founders: 10%
Percentage of tokens allotted for Bonuses and team development: 2%
Percentage of tokens allotted for Ambassadors: 2%
Percentage of tokens allotted for Network stabilization and welfare: 6%
Percentage of tokens allotted for Team members: 8%
Percentage of tokens allotted for Bug bounty and testing: 1%
Minimum target for funding: 2250 Ethereum
Unique features of Bitjob.io:
It provides a bonus of around 20% (55 million STU) to the users. The tokens equivalent to the users' bonus amount will be transferred directly to their ethereum address.
It contains a simple and easily usable interface with some advanced features.
It is highly safe and secure in nature.
It offers a multi – sig wallet for token storage.
It provides an escrow protection mechanism to its users.
It is highly transparent in nature and it imposes only very low charges for transaction coverage.
It gives a great potential of gaining decent income, depending on the skills of students.
It focuses mainly on the students' empowerment.
It lets the students to acquire occupational experience and to become independent.
There is no need for its users to trust the server admins.
It contains multiple security levels, which reveal the safety and security of the network.
It holds a qualified team of professionals, who are responsible for giving support on a 24*7 basis.
How to Participate with Myetherwallet:
The users can utilize the multi – signature wallet by doing the following procedures:
Account creation with a password manager. (Instructions: How to start with MyEtherWallet)
Wallet top up by providing after login through your pvt. key or a keystore file.
Perform transaction.
Transaction confirmation.
Token claiming from the contract of token sale.
Important Links: