Best Stellar Wallet – Top 10 XLM Wallets for 2019
November 29, 2018 by admin
159
Stellar Lumens is a decentralized payment platform network connecting people, banks, financial institutions and payment systems. Lumens XLM is the official token of the platform and is used for all transactions, payments and cross-border exchanges worldwide. It has recently collaborated with IBM and has been nominated as one of the top 10 cryptocurrencies in the
Stellar Lumens is a decentralized payment platform network connecting people, banks, financial institutions and payment systems. Lumens XLM is the official token of the platform and is used for all transactions, payments and cross-border exchanges worldwide. It has recently collaborated with IBM and has been nominated as one of the top 10 cryptocurrencies in the market. Lets discuss about best Stellar wallet (XLM Wallets) to store XLM tokens.
Best Stellar Wallet (XLM Wallets)

Ledger Nano S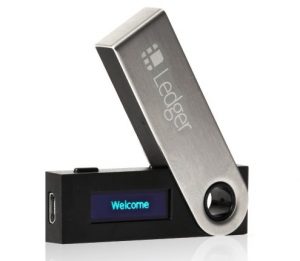 Ledger Nano S is a hardware wallet and acts like a USB device which can be plugged into any device having a USB port. Ledger nano S wallet supports multiple cryptocurrencies like Stellar, Ripple, Ethereum, Bitcoin, Litecoin, Ethereum Classic and many other altcoins. It has very distinctive security features which makes it one of the best Stellar Wallets in the market. It has a two-factor authentication system, a PIN-code, seed recovery system as well. Your private keys are full protected and secured. In case of loss of your device or your screen locks up, there is a 24-word recovery phrase which is given during the initial setup of your device, which will help you to restore your account.
It also has an OLED screen with double tap button for checking transaction details. A cutting-edge easy to use interface. There is an anti-tampering sticker to protect your device from any damage. The Ledger Live App allows you to check your balance and transactions. The wallet is powered by BOLOS ™ operating system, a product of Ledger which protects and shields your sensitive information.
Stellar Foxlet
Foxlet is a desktop wallet available for Windows, Mac and Linux OS. The private keys are stored in the personal computer and not shared with any third party. The interface is very simple. Foxlet also allows exchange of CNY or Chinese Yuan. This wallet only supports Stellar tokens.
Stellar Paper Wallet
A paper wallet is a combination of a public and private key generated online which can be printed or written on paper, rather than stored digitally (in a text file or document). To make it more secures, it is also recommended that not to store pvt key online.
You can create a Stellar paper wallet by any of the following methods:
Paper wallet is much secure after hardware wallets in the list of best stellar wallets but you have to secure your pvt key physically.
Atomic Wallet
Atomic Wallet is a new multi-assets solution for convenient storage of Stellar. For sure, Atomic can be used not only as XLM wallet: it currently supports over 300 coins and tokens. Besides, every weekly update adds new crypto assets and features.
Desktop app is available for Windows, MacOS, Ubuntu, Debian and Fedora. Alpha versions of Android and IOS mobile apps will be released in December, 2018. Full list of Atomic Wallet features:
Private keys are stored on user's device and generated from mnemonic.
Built-in Buy Crypto with credit card option, provided by Simplex
Weekly updates with new coins, tokens and useful features
Atomic Swaps option for exchange with low fees
Custom token feature — you can manually add any ERC20 token in seconds
Instant exchange via Changelly and Shapeshift
Instant 24/7-live support
Stargazer
Stargazer is available for desktop as well as mobile phones. It supports Windows, Mac, Linux operating system. You can easily download the App from Google Play into your Android phones. It has a simple interface and supports multiple accounts, languages and assets. The wallet is secured by a multi-signature feature.
Lobstr
Lobstr is a mobile wallet and can be used for daily purposes due to its hassle-free interface and simple features. It is in fact one of the best wallets for iOS due to its easy features. The wallet allows easy transfer of funds. It is protected by a two-factor authentication process, fingerprint feature and PIN code protection.
Astral
Astral is a web-based Stellar wallet. When a user opens an Astral account, other eligible accounts automatically gets added and can earn bonus XLM coins from those accounts. There is a two-factor authentication process and the wallet are encrypted by AES-256. A mandatory email confirmation is needed for withdrawal of funds to other addresses. This wallet also allows multiple addresses for better management of funds.
Guarda
Guarda is a multicurrency light weight wallet and is available both for mobile and web versions. It supports all the major cryptocurrencies like Stellar Lumens, ZCash, Ethereum, Ripple, etc. Guarda does not store, wallet data, private keys or client information and as such is one of the safest Stellar wallets so far. That is why it is often considered as the best wallets for iOS and Android users. The interface is very simple and attractive. The private keys are stored in the device and are automatically erased once you log out from it. The verification procedures are quite flexible and does not require any KYC authentication for withdrawal or transfer of funds.
StellerTerm
StellerTerm was designed by Iris Li, a one-time employee of the Stellar Foundation. StellerTerm is a web-based wallet and its simple interface is exclusively useful for amateur users. The desktop version is incredibly useful. Users can easily track the exchange markets, other currencies and their account balances.
Stronghold
Stronghold is an open source ledger wallet. Transactions here takes less than a minute to complete. The wallet is relatively cheap as well. The wallet is highly transparent and anyone can view its data, be it a user or a non-user. It has swap technology as well where you can also swap currencies.
Recommended Article Links: