BeOne Review : B1 Token Sale and ICO Details: Game Changer in Online Education
September 06, 2017, Moscow, Russia – BeOne, the Russian highly anticipated blockchain start-up is setting its ICO to go live very soon. To celebrate this milestone in the history of the company, the team decided to offer 84 hours of bonuses for early bird investors. The month-long crowdsale is launching on September 7, 2017. It is a big step for the ambitious project, aimed to revolutionize the industry of online education.
Compared to other businesses, this area seems to be uncrowded, as there are not so many projects, with exception of a few established players. In essence, the platform embarks on a path paved by big whales such as Coursera or Udemy, in an attempt to take their best features, enhance them, and bring in something new. What really sets it apart, is a decentralized structure, with all its entailing implications. Not trying to sound pompous, but if we think of it for a while, BeOne is arguably the first online education project with a distributed ledger base. Time will show how this goes in practice, for now, BeOne seems to have a number of attractive features for its users.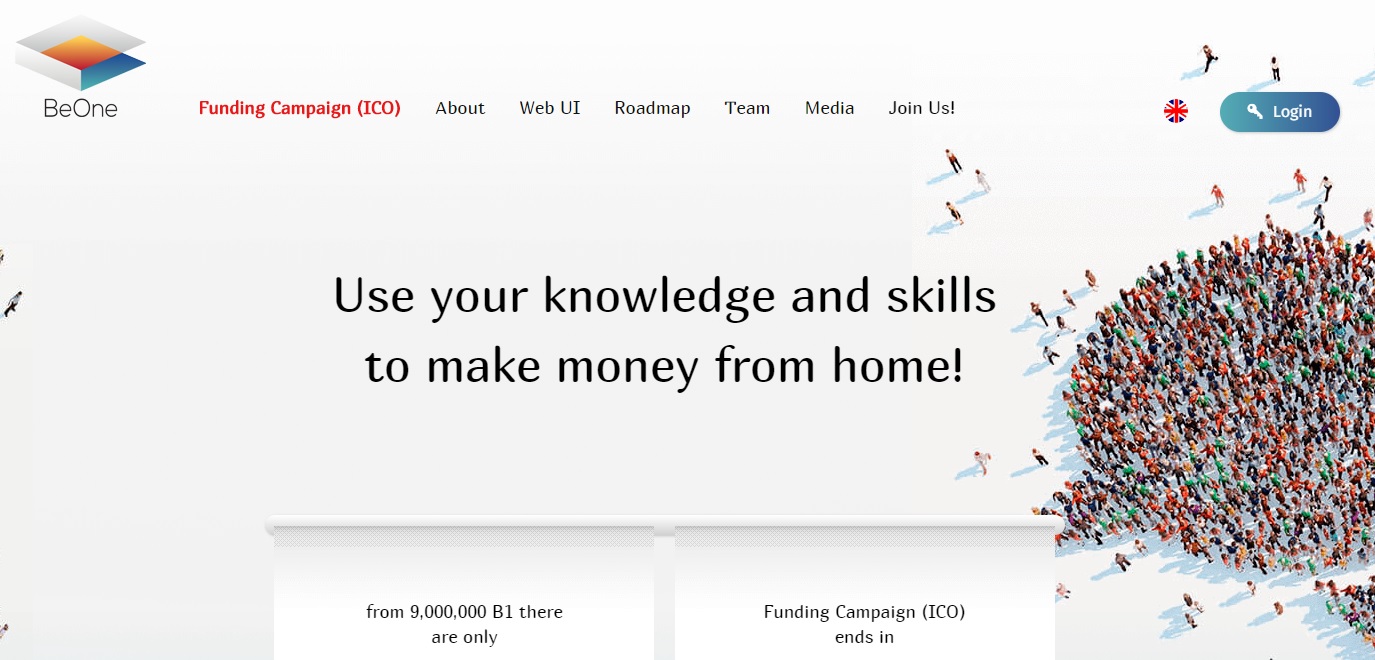 One of the most significant advantages for instructors is its economical approach towards content creators. The platform developers claim to have the lowest commission for instructors in the industry, mainly due to the blockchain technology. Aside from that, BeOne boasts a variety of ways to monetize on courses, webinars, and individual consultations, and insertion of social elements as well, which are aimed to bring instructors and their audience closer to each other. Furthermore, there are unique WYSIWYG tools designed for faster and more convenient course creation. While the web UI has been available for demonstration on the project's website, the team is planning to unveil the Alpha version, along with the aforementioned tools, for the open testing phase in early October.
As for students, the platform is to offer a range of interactive courses teaching users a plethora of different skills, starting from cooking to photography. The courses are meant to be designed in an edutainment manner, making user's progress and reinforcement of study material easier. The platform also allows users to search for like-minded people and join interest groups to learn together.
According to the latest study by Research and Markets, the global e-learning market is projected to reach whopping US$325 billion by 2025. Such rapid growth suggests enticing opportunities for today's investors.
Since its first public appearance, the project has amassed a steadily growing community of supporters and followers. However, in order to set a foothold in the market, it needs a boost which the team hopes to achieve with raised funds. More than a half of them is to be allocated for marketing through target advertising.
The ICO is starting tomorrow, on September 7, 2017, at 12:00 (MSK), and it will go on until October 7, 2017. 10,000,000 B1 tokens (which will be used for transactions on the platform) are to be issued, 9,000,000 of which will be available for investors. Tokens can be purchased by depositing BTC, ETH, LTC, DASH, or WAVES. The total number of tokens is final to ensure their value in the future. Within several days after the ICO ends, tokens are set to start trading exchanges. Alongside with special offers and rewards, BeOne promises to have a voting system for the investors.
If you an early bird, this is your chance to cop shares at a half price. Within the first 12 hours of the ICO the bonus on the token purchase is going to be 50% off. Following that, the tokens will be made available at a 20% discount for the next 72 hours.
The fundraising campaign is to be performed on the investor's panel, specifically designed for the B1 tokens purchase, available at https//:ico.be-one.co. For more information, it is recommended to visit the platform's website or read the white paper. You may also reach the team through their media contact listed below.
About BeOne
Based out of Russia, BeOne is an innovative decentralized online learning platform that enables users to make money by sharing skills, knowledge, and experience. The company is striving to make online educational resources more affordable and readily accessible to people of all age groups across various domains.
Important Links:
Media Contact
Contact Name: Kristina Smirnova
Contact Email: kristina@be-one.co
Location: Moscow, Russia