6 Best Ethereum Mining Pool | Top ETH Mining Pool List | 2020 Edition
One of the best ways to start getting Ethereum rewards is the mining of it. Ethereum mining can be done either by using a cloud mining website or setting up to your own mining infrastructure. In case you have chosen the 2nd one and have already purchased ETH mining hardware, the next step is to join an Ethereum mining pool where miners get united and shared their hash power to mine Ethereum block and share the block reward in the ratio of the mining hash power they contributed in the pool.
If you want to see faster results and a quicker ROI (Return on Investment), then joining an Ethereum pool and combining your resources with other miners from all over the globe will help you in a significant way. With the development of various mining pools, it has become quite complicated for the solo miners to get blocks to process and the rig which they use needs enormous processing power to compete with the pool.
If you have decided to join the crypto league, then it is essential to choose the right pool that meets your expectations. It should be known that those pools that have been mining for a more extended period are the most reliable. By choosing the best Ethereum Mining Pool, you will be more confident about receiving your profits.
6 Best Ethereum Mining Pools: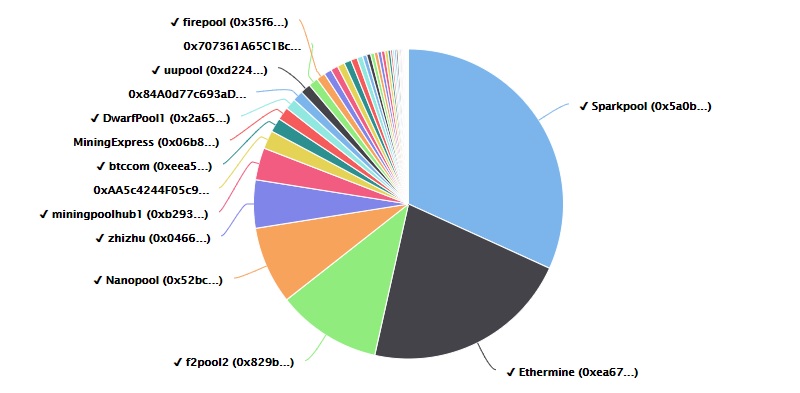 Sparkpool is a Ethereum mining pool which was formally know as Ethfans. With a PPLNS system it is offereing mining payout of 0.05ETH and charing a fee of 1%. Sparkpool/Ethfans is next on the list of Ethereum Mining Pool and is only for those who are from China as well as from nearby nations. Being a Chinese Pool, it has about 31% of hashrate of the network's overall hash power and a big name among others.
Ethpool and ethermine are considered as one of the best mining pools and is very popular among the Ethereum hunters. This is a single platform which is hosted on two different websites. The network's total hash power reaches up to 21%, thereby making it the biggest pool of its kind. More than sixty thousand miners use ethermine, whereas less than a hundred contributors run ethpool.
If the statistics are to be believed, then this platform ensures about 7.6% of the hashrates in the network. Miningpoolhub is a minority community utilized by the most professional Ethereum miners, which makes it so unique. Another great thing about miningpoolhub is that it is located in various locations over the globe and multiple servers that ensure both redundant and reliable mining process.
F2pool is suitable for mining the Bitcoins, but its normal usage is hampered because of its Ethereum mining pool as it is in the Chinese language. SInce 2013, this platform has been around and contributes to 11% of all hashrate. In addition, its servers are highly reliable spread over Asia and can also be utilized as a Litecoin mining pool.
This pool is home for at least forty thousand miners and generates about 13% of the network hashrate. Talking about its interface, it is quite intuitive, secure, and it allows the user to specify the payment threshold.
The Dwarfpool is known as the most versatile pool – Monero, Ethereum, Expanse, and a few other coins can be mined on this platform. Though it is not as big as it used to be, still it accounts for 4.3% of the hashrate. As it charges 1%  fee, but to withdraw funds, your balance must be 1.01 ETH. This pool is a perfect choice for those miners having powerful facilities.
Final thoughts
There are a few other mining pools you can find, and some of them are covered in this post. The best Ethereum pool is the one that fulfils with your exaction. In the end, it comes to the Ethereum Mining Pool that meets your exaction. If you are a beginner, then choosing a platform having a low premium threshold would be the right way to go.